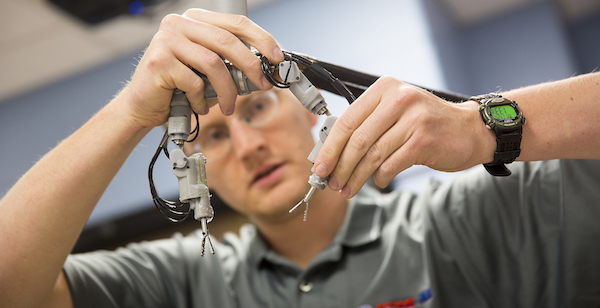 The University of Nebraska–Lincoln is partnering with the Department of Defense Telemedicine & Advanced Technology Research Center (TATRC) to develop a new surgical robot and holographic telesurgery interface to control the robot. We are looking for two students to help with the design and programming of the telepresence system for the robot. Specifically, we will be creating a virtual holographic controller for the robot.

Preferred requirements:

1) Taken (or currently enrolled in) CSCE 310
2) GPA of 3.4 or higher
3) Interest in holographic computing
4) No medical knowledge is necessary
5) Able to commit to the project for approximately 12 months

Pay: $20/hour

Start date: Immediately.

Work hours: Flexible to your schedule, but during the school year 15-20 hours per week are required and during summer 30-40 hours per week are required.

Location: The Terry Research Lab (360 SEC).

Duration: The project will last through March 2018.

To apply: Please send a resume and a writing sample to bterry2@unl.edu. The writing sample should be a 200-word (1/2-page) essay describing how mixed-reality computing may impact the human-machine interface. Cite sources from literature or online, if they are used in your essay.