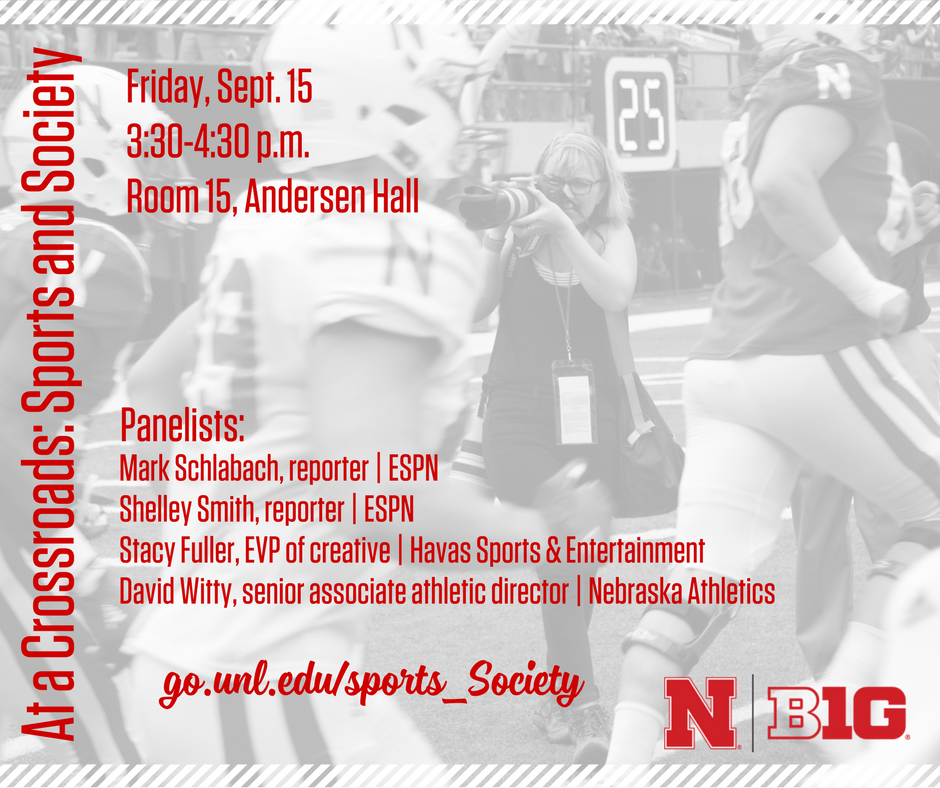 The College of Journalism and Mass Communications will host a Big Ten Sports Media and Communication Symposium on Sept. 14-15, 2017. The symposium originated as an effort to collaborate with other sports media program faculty at Big Ten schools to share ideas and network. At least nine of the 13 Big Ten schools are expected to be represented at the event.

The event will wrap up Friday, Sept. 15 with a panel of sports communication professionals focused on how sports and society intersect. The panel, titled "At a Crossroads: Sports & Society," will begin at 3:30 p.m. in Andersen Hall, Room 15 and will be open to the public. The panel will feature representatives from the UNL Athletic Communications department. The panel will also include experts in the field and UNL alumni:

-Mark Schlabach, reporter, ESPN- Mark Schlabach is a regular contributor to ESPN TV and radio. As one of the country's most respected college football reporters and columnists, he has contributed to programs such as Outside the Lines, SportsCenter, College Football Live, The Paul Finebaum Show and College GameDay. Before working for ESPN, he was a college football and investigative reporter for the Washington Post and Atlanta Journal-Constitution.

-Stacy Fuller, executive vice president of creative, Havas Sports and Entertainment- Stacy Fuller is the executive vice president of creative at Havas Sports and Entertainment USA. After graduating from the CoJMC in 1999, she started her advertising career in Chicago and spent time in Los Angeles working with Deutsch. After moving to New York City she joined the Havas team in 2011, leading Cake, a boutique content agency, and serving as head of content for Havas North America. She has crafted iconic campaigns for some of the world's most recognizable brands during her time in the industry. Stacy played an instrumental role in creating Havas Sports and Entertainment USA and was recently named as one of the most powerful women in sports marketing by Adweek.

-Shelley Smith, reporter, ESPN- Shelley Smith is a sports correspondent for ESPN SportsCenter. Before joining ESPN in 1997 she wrote for Sports Illustrated, Pacific Stars and Stripes in Tokyo, The San Francisco Examiner and the Associated Press. She won a Sports Emmy in 1997 for her segment on Magic Johnson as part of an ESPN production on AIDS and athletes. She is the author of two books, Just Give Me the Damn Ball and Games Girls Play: Lessons to Guiding and Understanding Young Female Athletes. Shelley graduated from UNL in 1981 with degrees in journalism and political science.

-David Witty, senior associate athletic director, Nebraska Athletics- David Witty is a senior associate athletic director for the Nebraska Athletic Department, overseeing marketing and communications. He is involved in all areas of Husker advertising, including marketing and brand management, strategies, ticket marketing and sales, fan experience, and licensing and trademark activities. He also oversees HuskerVision, media relations, digital communications, graphic design, Huskers Authentic and provides overall support for Husker spirit groups and UNL bands. Before moving to Nebraska, David served as the vice president and general manager of Husker IMG Sports Marketing and spent more than two decades with the Kansas City Royals.