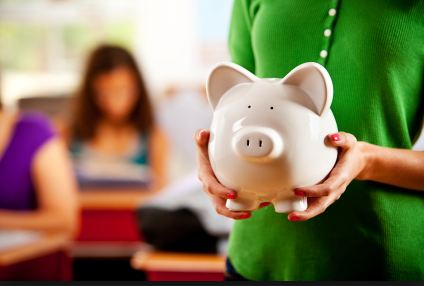 You can help your student become a savvy money manager by sharing our "secrets" for financial success! No matter what their age, these "secrets" can help all UNL students build good money habits so they are financially successful throughout their lives.

Money Secret #1: Ways to Save Money
• Have an emergency fund for unexpected expenses. This fund could save your student money they would waste on interest charges if they are forced to borrow money for unexpected bills.
• Keep all debt as low as possible. The less debt your student graduates with, the more money they will have after college to put towards their financial goals.
• Develop financial goals to help avoid impulse spending. For example, if your student wants to study abroad, saving for their trip can help them avoid unnecessary purchases.
• Avoid the most common student money-wasting mistakes. During the academic year, students commonly spend: $430 on eating out, $540 on entertainment, and $540 on personal items. Solutions = Students should use their meal plans or learn how to cook, attend free UNL entertainment events, and identify their wants vs. needs.
• Have a spending plan. Having a plan for their money will help your student spend their money wisely, and is good practice for managing their money after college. We recommend students check out: http://www.mint.com, a free tool that will help them create their own plan.

Money Secret #2: Minimize Student Loan Debt
• ONLY BORROW WHAT IS NEEDED! Many students think they should borrow the entire amount that is offered to them. We encourage them to plan to graduate with as little debt as possible.
• To help students determine a reasonable amount of student loan debt considering their future career, use the calculator available at: http://www.finaid.org/calculators/undergradadvisor.phtml. Experts recommend students plan for after-college debt payments to be no more than 10-15% of their monthly income.
• Track how much has been borrowed at: http://www.nslds.ed.gov. Tracking amounts can help students plan for repayment. Students should familiarize themselves with repayment plans & forgiveness programs at: http://www.studentaid.ed.gov.
• Be careful with student loan refunds. If your student borrows more than they have to pay UNL, they will receive their extra funds in the account that is set-up in MyRed. Students should save refunds in a savings account & transfer the funds to checking when bills are due.
• If your student has unsubsidized loans, which accrue interest during school, interest payments can be made at: http://www.myedaccount.com.

 
Money Secret #3: Avoid Wasting Money
• Read bank or credit union account contracts! Many students do not know how to avoid fees, like transfer fees or international fees.
• Be proactive about avoiding identity theft. Students should copy the front & back of all credit & debit cards and keep the copies in a safe location. This enables your student to quickly report their card lost.
• Avoid NCard regrets. The NCard can be used at retailers around campus. Many students habitually overuse their NCard. Students should recognize the importance of only using their NCard if they are sure they can pay the monthly bill in full. Also, avoid student bill late fees. Bills are due the 12th of every month and can be paid on MyRed.
• Do some research before moving off-campus. It's not always cheaper! Students should recognize that food & transportation costs can be expensive. If they do move off campus, they should know that renter's insurance is necessary, that learning how to cook vs. eating fast food can save them over $300 per month, and that they need to fully understand their lease BEFORE they sign.
• Use campus services! Student fees pay for many services, including UPC concerts, Lied Center Discounts, Campus Rec, and more!

Money Secret #4: Avoid Credit Mistakes that Could Haunt Students Long After College
• Before getting a credit card, students should understand the importance of credit scores. Building a credit score will affect their future, including determining how much they will pay for borrowed money. If students do not manage credit responsibly, they may be prevented from getting their dream jobs. Many employers now check credit scores to help determine how responsible job applicants are.
• If students are going to use credit, they need to make sure they: Have the self-discipline to live within their means, Are not impulse buyers, Understand the importance of paying their bills in full each month to avoid wasting money on interest, Pay their bills on time – the #1 thing to do to build a credit score, Use 30% or less of credit available, Don't open too many accounts too quickly – Experts suggest having 1 or 2 accounts and work on building a good account history.
--------------------
About the Author: Carla Talmadge is senior communications major from Seattle. She is a student program assistant at the UNL Student Money Management Center, a financial education program for UNL students. Carla works one-on-one with students to answer their financial questions and help them find solutions to their financial challenges. For more information on the UNL Student Money Management Center, please visit: http://www.unl.edu/smmc.
More details at: http://go.unl.edu/8dz