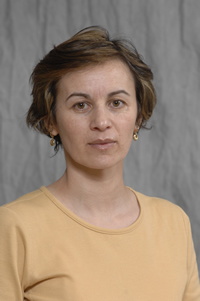 Congratulations to Ayse Irmak, CALMIT, who edited Evapotranspiration: Remote Sensing and Modeling, published by InTech in January 2012.

According to the publisher's description, Evapotranspiration - Remote Sensing and Modeling contains 23 chapters related to the modeling and simulation of evapotranspiration (ET) and remote sensing-based energy balance determination of ET. These areas are at the forefront of technologies that quantify the highly spatial ET from the Earth's surface. The topics describe mechanics of ET simulation from partially vegetated surfaces and stomatal conductance behavior of natural and agricultural ecosystems. Estimation methods that use weather based methods, soil water balance, the Complementary Relationship, the Hargreaves and other temperature-radiation based methods, and Fuzzy-Probabilistic calculations are described. A critical review describes methods used in hydrological models. Applications describe ET patterns in alpine catchments, under water shortage, for irrigated systems, under climate change, and for grasslands and pastures. Remote sensing based approaches include Landsat and MODIS satellite-based energy balance, and the common process models SEBAL, METRIC and S-SEBS. Recommended guidelines for applying operational satellite-based energy balance models and for overcoming common challenges are made.

Irmak is a faculty member at SNR and in UNL's Department of Civil Engineering. Her M.S. and Ph.D. are from the University of Florida. Her research and teaching areas include hydrological information systems, geographical information systems (GIS) for water resources, remote sensing-based evapotranspiration and other surface energy fluxes, remote sensing in agricultural and natural resources systems, impacts of land use/land cover on climate change, and simulation of crop production, soil water processes, and interactions with climate. She has received six journal paper awards and many presentation awards. Irmak's research has been funded by NASA, USDA, USGS and Nebraska agencies. She has published 44 articles in refereed journals and four book chapters. She teaches courses in GIS, remote sensing, data analysis, and surface water hydrology. Irmak is a member of the American Society of Agricultural and Biological Engineers, American Society of Civil Engineers -EWRI, United States Committee on Irrigation and Drainage, American Society of Agronomy, Soil Science Society of America, Soil and Water Conservation Society, and American Water Works Association.