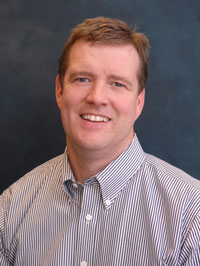 "Uncovering the Biology of Unknown Viruses Through Metagenomics and Nucleotide Metabolism Genes," will be presented by K. Eric Wommack of the University of Delaware at 4 p.m., Jan. 28 in E103 Beadle Center. The seminar is free and open to the public.

Within natural ecosystems, viruses are astronomically abundant and highly active. Through these findings, it is clear that the process of viral infection has far reaching consequences for the fluxes of nutrients and energy through ecosystems. Recent work applying high-throughput DNA sequencing to viral communities (i.e., viral metagenomics) has clearly demonstrated that viruses contain an extraordinary diversity of genes, the majority of which have no known function. These transformative discoveries in viral ecology have answered large scale, first-order questions and now the growing viral ecology research community is tackling second-order questions surrounding the biological and ecological mechanisms behind ecosystem-scale viral impacts.

Wommack's seminar will report on his team's efforts to leverage metagenomic sequence data to connect viral diversity with the predominant biological features of unknown viruses within aquatic ecosystems. In particular, Wommack will focus on the development of key nucleotide metabolism genes as phylogenetic markers of bacteriophage diversity that indicate the morphology, life cycle and ecological strategy of unknown phages.

The Beadle Center is located at 1901 Vine Street. The complete schedule of seminars may be found at http://biotech.unl.edu/.

More details at: http://go.unl.edu/u79i