UNL Speech and Debate wins Big Ten Tournament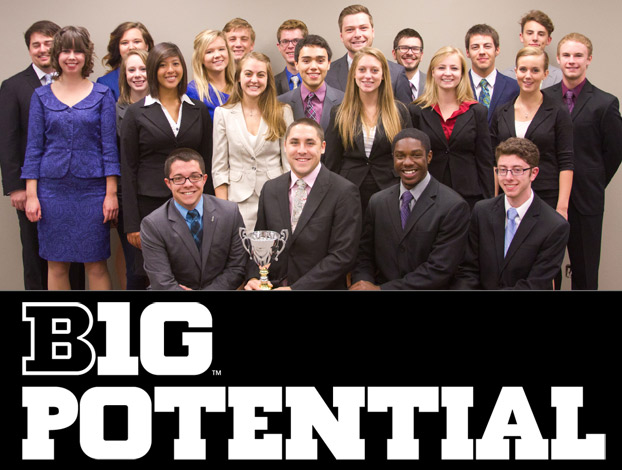 University of Nebraska-Lincoln Speech and Debate became two-time champions of the Big Ten Conference with its victory at the Conference Challenge Tournament in October at Northwestern University in Evanston, Ill. UNL's Speech and Debate took first-place honors at the same tournament last fall and earned a place in the record books as the first organization on campus to capture a Big Ten title.

This year, UNL led the field with a two-day point total of 190, ahead of the University of Illinois, which grabbed second place with 56 points, and tournament host Northwestern University with 53 points.

"I am extremely proud of the hard work and effort our students and coaches put in to prepare this competition," said Aaron Duncan, Speech and Debate director. "None of the students on our team receive full-ride scholarships, none of them will be drafted into the professional ranks. They compete because of their love for this university and this activity."

In addition to the championship in a conference that has a long tradition of academic excellence and excellence in speech and debate, UNL students captured seven individual Big Ten titles.

Students winning conference championships included:
- senior Lauren Schaal in persuasive speaking
- senior Marc Otero in program oral interpretation
- junior Amanda Stoffel in after-dinner speaking
- junior Josh Planos in poetry interpretation
- junior Grace Kluck in dramatic interpretation
- sophomore Reece Ristau and sophomore Josiah BeDunnah in prose interpretation
- sophomore Josiah BeDunnah and junior Roger Allen claimed victory in duo interpretation.

The organization is part of UNL's Department of Communication Studies in the College of Arts and Sciences.

"The department is delighted at the success of these dedicated and talented student competitors," said Dawn O. Braithwaite, department chairperson. "We congratulate our outstanding director, Aaron Duncan, and all the coaches for their excellent work."

The Department of Communication Studies explores human communication as it shapes and is shaped by relationships, institutions and societies. Its main areas of expertise are interpersonal and family communication, organizational communication, and rhetoric and public culture.

More details at: http://go.unl.edu/6o5