UNL senior explores renewable energy in Costa Rica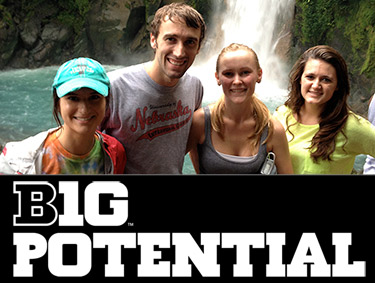 Casey Heier is a senior UNL biological systems engineering major from Columbus, Nebraska, who's earning a minor in energy sciences.

In his free time, he ponders sustainable energy solutions for the world.

At the 2013 Clinton Global Initiative University, he was excited to be in the same room with former President Bill Clinton and political humorist Stephen Colbert, but he was most eager to hear Zafar Adeel, director of the United Nations University's Institute for Water, Environment and Health, who spoke on world water solutions.

In December, he expanded his learning by traveling to Costa Rica for 12 days with the GREEN (Global Renewable Energy Education Network) program, an organization that aims to make "the words of a traditional textbook jump off the page and into the minds and hearts of our students" through hands-on education at renewable energy facilities and sustainable site visits.

Heier applied to the program earlier in 2012, and was one of 20 students (the only Nebraskan) chosen for the trip. He paid his own way, helped by funding from a scholarship. He's familiar with international travel as operations director for the nonprofit World Energy Project (WEP), which conducts humanitarian engineering work in several locations in Africa.


A DAY IN THE GREEN PROGRAM

His engineering background and WEP involvement got a real boost from the GREEN program experience. Each day in Costa Rica, TGP students woke at 7 a.m. and spent mornings in classes on a specific renewable energy topic: geothermal, wind power, solar and more. Each afternoon, the group shuttled to sites where the morning's topic was in action, including a wind farm, a hydro power plant and a biomass facility processing sugar cane products.

In late afternoons and evenings, his group enjoyed Central American culture and scenery. Heier especially enjoyed zip lining though the jungle, which he chose to do from an upside-down perspective to make it even more memorable.

Heier's favorite field trip was the sugarcane processing plant. "They made sugar and ethanol, and also generated their own electricity from burning the stalks, which are waste material," said Heier. "They sold the excess power (beyond what the plant could use) back to the grid." This visit brought to life many concepts Heier had studied with UNL BSE Assistant Professor Adam Liska, who leads the energy sciences minor program.


RENEWABLE ENERGY UP CLOSE

Heier was impressed that 80 percent of Costa Rica's total energy used (including transportation fuels, cooking gas and more) is from renewable sources, and 95 percent of the country's electricity is produced from renewable sources.

Time with the GREEN program participants was enjoyable, Heier said, because of the variety of interests and experiences adding to the focus on sustainability. When he shared WEP's work, the TGP group "loved the idea of what we're doing."

Heier said capstone projects conclude each session. Fellow participants from Boston with ties to Cape Verde, an island nation located west of Senegal, connected Heier with schools where WEP can partner and conduct further projects.

"With renewable energy, it's important to see it happening in person – to actually see what the technology looks like when it's implemented to its full potential," said Heier. "Talking with engineers at the wind farm and the geothermal locations was great for me."


MAKING AN IMPACT STARTS NOW

Heier believes students should be creative and shape their education with standout experiences.

During his four years at UNL, he founded and presided over a fraternity chapter (Pi Kappa Phi), served as a teaching assistant in an energy course, and worked on multiple research projects—including coauthoring a paper on bioenergy that was submitted for publication.

"It's work but it's fun," Heier said. "There's nothing more rewarding than being able to use your knowledge and talents to make a positive impact in the world."

While Heier plans to graduate in May and pursue graduate studies in renewable energy, he's excited that the GREEN program's strong alumni network can likely connect him with opportunities at leading companies in the renewable energy field.