UNL's Sutton Spearheads Green Roof Initiative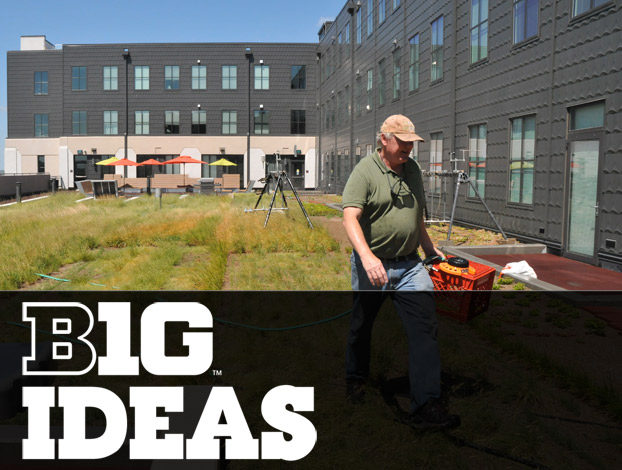 Where others see black tar and white reflective rooftops, the University of Nebraska-Lincoln's Richard Sutton sees a green opportunity.

A professor with a dual appointment in agronomy and horticulture, and landscape architecture, Sutton is developing less expensive and more reliable procedures to grow native prairie grasses and wildflowers in place of traditional sedums in green roof applications.

Sutton started the research project in 2007, installing his first prairie grass green roof on top of Lincoln's Pioneers Park Nature Center. Six years later, he has five green roof projects in progress, including a 6,000-square-foot area on the Larson Building in downtown Lincoln.

"Using prairie grasses in green roof applications was just something that looked interesting to me," Sutton said. "It just seemed like a great way to put together my skills and interests."

His goal is to develop and market native grass seeds that grow easily on rooftops, similar to what UNL does for crops like wheat and corn.

"I also want to remove the oddity label from this type of green roof," Sutton said. "I want people to see it as a commodity."

The traditional plant used in green roof applications is sedum, a shallow root succulent that is drought tolerant and disease resistant. Its use in green roof applications was developed in Germany over many years. Today, its use has been imported to other parts of the world due to innovations developed in German applications.


GREEN ROOFTOPS IN LINCOLN

Sutton is working to show that native prairie grasses can be just as successful as sedum in green roof applications. For the Larson Building project, Sutton started planting low-maintenance native grasses in spring 2012. This growing season, he has added wildflowers to the mix.

The site -- which doubles as a communal area for individuals living in Parkhaus, the apartment portion of the Larson Building -- requires a once-a-year mowing (in early spring) and water as needed during dry spells.

The soil used ranges from four to eight inches deep. It is a mix of expanded shale and clay mingled with bits of sand and compost. The mix is a lightweight substrate that helps meet load restrictions that come with green roof applications and is acceptable to the grasses.

On the Larson project, Sutton used a specialized garden seeder that plants evenly in rows. Sutton said the method is three times faster than hand planting. It also helps reduce costs as seed is cheaper than plants.

Sutton said he hopes his method can reduce the cost of green roof planting from $15 per square foot to around $5. "If we can do that, it will definitely increase the use of native grasses in green roof applications," he said.

Only one of Sutton's green roof projects is on the UNL campus -- a small site planted in June of 2013 on top of an outdoor cabinet in the Keim Hall courtyard on East Campus. All of the locations are used as teaching locations by Sutton and other colleagues in agronomy and horticulture and landscape architecture.

"The one on the Larson Building is especially valuable because it is readily accessible," Sutton said. "The others you can see from below. But this one you can walk on and see just how the system works."


FUTURE PLANS FOR THE PROJECT

Sutton said he hopes to eventually land a larger green roof project on campus.

"Other universities have incorporated green roofs into their building designs," Sutton said. "At Penn State, all new buildings are required to have green roofs to help reduce flooding from runoff. It would be great if we could get to that point here at UNL."

In the meantime, Sutton said he plans to continue refining his native prairie grass planting procedure for green roof applications. He also will release a paper on advancements made in the Larson Building project and has started working to pass the research torch on to a colleague or graduate student.

"I plan on retiring in [2015]," Sutton said. "So, while I will keep working to improve our planting methods, I need to get people up to speed on this. This is definitely research I want to see continue."

The five prairie grass green roof projects Sutton has developed in Lincoln are: Pioneers Park Nature Center, 900 square feet, est. 2007; Arbor Day Foundation, 400 square feet, est. 2010; Sandhills Publishing, 2,000 square feet, est. 2011; Larson Building, 6,000 square feet, est. 2012; Keim Hall Courtyard Cabinet, 108 square feet, est. 2013.

More details at: http://go.unl.edu/6ou