Alumna Turns Dreams Into Realities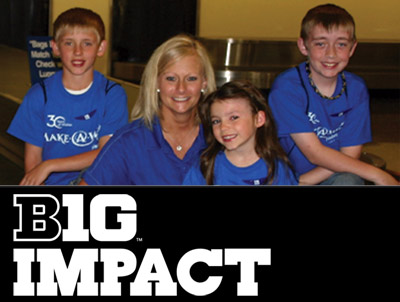 Fairy godmother is not a common job title. However, it is one that University of Nebraska-Lincoln alumna Brigette Young could list on her resume. She has been the CEO for Make-A-Wish Foundation of Nebraska since 2008. "I always just wanted to do something where I was helping people and at the end of the day I was making a difference," said the Bellevue native. Helping people is an understatement. Young heads a dedicated staff of seven in Omaha. They are responsible for granting around 115 wishes annually. Make-A-Wish Foundation started in 1980 and Nebraska began its chapter in 1983. Annual meetings have allowed Young to meet famous people, such as professional wrestler John Cena and actor George Lopez. She has also met several Disney princesses and Mickey Mouse. However, the perks pale in comparison to Young's ability to help others. She is happy to be a part of an organization that not only assists sick children, but also gives hope to their families. "Making the entire family a part of that wish is a Make-A-Wish priority," she emphasized.

YOUNG'S PATH TO MAKE-A-WISH Young did not start her career with Make-A-Wish, but was always interested in non-profit work. She majored in marketing at UNL, and remembers the worries of finding a job after graduation. Young, who earned her bachelor's degree in 1989, recalls applying to anything "that had the word marketing in it."

Her first job was at an insurance firm, and her duties included checking on sales leads. Young lasted two weeks in that role, before being called to talk with the boss. "I was sitting in the president's office and he was asking what my goals were and what I wanted to do," said the former Schramm Hall resident. The president promptly promoted Young and moved her to the marketing department. She began working on national magazine ads and stayed with the company for a year and a

half. Young's next career stop was with the Safety and Health Council. She spent ten years working on projects for groups like the Special Olympics and Quality Living. "I always wanted to make sure I was with good organizations and good non-profits. Of course everyone knew about Make-A-Wish," she said. "When the position (of CEO) became available, I jumped on it."

YOUNG'S RESPONSIBILITIES AS C.E.O. Young now oversees two satellite offices, coordinates volunteers and reports to a board of directors. Wish granting and fundraising require Young's office to work lots of hours. "We all sleep with phones right by our beds," she explained, "… but it's amazing how generous people can be." Wish kids are brought to Young's attention by social workers, the patient's family or a treating physician. A child can qualify once the family gives permission and the doctor confirms that the youth has a life-threatening illness. Working at Make-A-Wish allows Young to be a volunteer, while also being on staff. She enjoys being a "wish granter," which is the endearing term used to identify those that donate their time making dreams come true. Each wish kid is assigned two wish granters, and they present a packet to the family. They work hard researching the child's personality, in order to give the best possible experience. "We have very creative wish granters," Young, who is married to her high school sweetheart, boasted. She explained how one little boy had a wish to go to the moon. While that dream was not literally possible, Young's team worked with the family and sent them on a special trip to the Kennedy Space Center.

A CHILD'S WISH COME TRUE Young remembers another memorable wish, which involved an 11-year-old boy named Cayden. He had been diagnosed with brain cancer, and wished to be a pop star. "We probably had over 400-500 people from the community help with his wish," recalled Young. "This kid literally had a pop star day from start to finish." Cayden's wish day began with a limousine ride. He had his own motorcade escorting him from Lincoln to Omaha. Local radio stations conducted interviews. Hundreds of screaming Nebraskans participated as fans. UNL football star Ben Cotton even volunteered to be head of Cayden's security. The popular music group, Maroon 5, heard about this wish and wanted to be involved. This allowed for Cayden to have a jam session with the lead singer, Adam Levine, in Los Angeles. "Literally, Maroon 5's people called us in Nebraska and said they heard our pop star was going to be out there and they wanted to meet him," said Young with a smile.

MAKE-A-WISH AND HUSKER ATHLETICS WORK TOGETHER An even bigger duty for Young is fundraising. Two important events that Young oversees are the Blue Jean Ball and the Big Red Dinner with Nebraska football coach Bo Pelini. "The mission, the vision relies on that fundraising piece," Young, the mother of two, explained. The Blue Jean Ball has been happening in Omaha for 15 years. Guests are encouraged to come in comfortable clothes and spend money on the charity, rather than formal wear. In Young's first year as CEO, the Blue Jean Ball brought in around $65,000. The past two years, it has earned more than $200,000, each year." To see that growth in the caliber of the people that know about it and that come and attend, and their level of generosity, it just blows you away," Young said of the event that 350 donors attend. The Big Red Dinner is a fundraiser that allows Young to return to Lincoln, and see Husker players and coaches meet wish families. Donors come dressed in signature Nebraska red. "The UNL athletic department is a huge supporter of Make-A-Wish," said Young, who has had season tickets, for Husker football, since the age of ten. Wish granting, fundraising and management are all in a day's work for Young. Her job is constant, and full of rewards. "When you get to see the appreciation of families on the receiving end of it and see how much gratitude … and to just hear them talk about their wishes is pretty cool," she said.