Bystrom, '12, claims a top ten internship in Los Angeles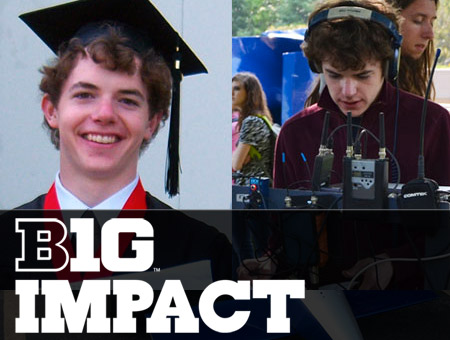 Shane Bystrom, who graduated in May with a Bachelor of Fine Arts in film and new media from the Johnny Carson School of Theatre and Film at the University of Nebraska-Lincoln, is the recipient of a prestigious internship this summer from the Academy of Television Arts and Sciences Foundation.

The Academy's summer student internship program provides more than 40 industry-wide internships to college and graduate students from across the country and is considered one of the top 10 internships in the country. The program gives students in-depth exposure to professional television production during an eight-week period in Los Angeles.

Bystrom, who is from Omaha, Neb., is the first student from the Johnny Carson School to be selected for this internship program.


BYSTROM'S INTERNSHIP FOCUS: SOUND

"My eyes widened," Bystrom said when he learned he had received the internship.

He was a finalist for the internship in 2011, so when he applied again this year, he knew that if he was not selected, he would receive an email, but if he was chosen, he would receive a phone call.

"I was on set for [the Carson Film] 'Digs.' In the middle of a shot my phone went off, and I was kind of annoyed, at first, because everyone I know knows I'm on a set and not to call me," Bystrom said. "So after the take, I see who called me and kind of recognized the name. And I'm trying to think, 'Where do I know this name from?' And then all of a sudden, it clicked. My heart stopped beating for about a minute straight. I was extremely excited, but it's been kind of a blur ever since."

Bystrom's internship category is sound, and he will be completing his internship at Larson Studios, a full-service, audio post-production facility in Hollywood that specializes in digital mixing for television, film and multimedia.

"I'm excited just to work with the professionals at Larson Studios, and to see their process," Bystrom said. "All the sound tricks I've learned over the past four years and that I taught myself, I want to see what I learned incorrectly or correctly. I'm just excited to see how they do it."

Bystrom first got interested in sound from working with alumnus Brad Flick (B.F.A. 2010), whom Bystrom describes as a "sound nut." During Bystrom's sophomore year, he looked for something to focus on in his studies.

"I felt like I was kind of floundering around trying to learn too much about everything," Bystrom said.

During a Film Production II class, there is a final film project that everyone participates in as crew. For that project, Bystrom tried sound because he had always loved it when working on other student films.

"The idea of the pure amount of creation behind sound design really caught my attention," Bystrom said. "Brad Flick also told me that no one else wants to do it, so there are jobs in it. More than anything, of course, I just love the idea of creating the sound design for a film or television show."

Last summer, he worked as a casting intern at "Extreme Makeover: Home Edition" and as an intern at Hollywood Studios International. He worked as an editing/production intern at NET Television from 2010-2012.


EXPERIENCE IN DEPARTMENT FILMS UNPARALLELED

Bystrom also has received good experience working on both Carson Films, "Digs" in 2012 and "Vipers in the Grass," which was completed in 2010. The Carson Film project involves a select number of industry professionals teaming with students and faculty from the University and NET to create a short film.

"'Digs' was a great experience. 'Vipers' was a great experience as well. Those experiences are unparalleled," Bystrom said. "You don't find those anywhere else in the country. The kind of work ethic and self-standards that they inspire - those kinds of experiences throw you into the deep end of the pool. So it's fast and kind of brutal, but a very good and effective way to learn. And it's fun because you're working with all your classmates and friends."

He described the Johnny Carson School of Theatre and Film as "the perfect fit" for him.

"In high school I did a lot of journalism and I did a lot of writing. Film, for me, was the ideal blend of the two, of writing and of imagery," Bystrom said. "When I was looking at film schools, the Johnny Carson School was a good school and it was close by, and I received a good scholarship. It was just the perfect fit."

The wide of variety of experiences has helped him. His thesis film, "Fighter's Block," was an official selection of the 2012 Omaha Film Festival this past spring.

"I got a lot of good experience with the films I worked on. That's mainly how I was able to explore my interest in sound," he said. "I tried to learn a lot about everything, but that was because I had the opportunities to work on a lot of student films, especially my first couple of years here."


INTERNSHIP WILL OPEN INDUSTRY DOORS

Following the internship this summer at Larson Studios, Bystrom hopes to continue with a career in sound.

"This internship will give me the boost I need to get into the industry," Bystrom said. "Next I want to secure a good sound internship that will ideally give me union hours. And from that, be able to establish myself in the union and try to get union jobs."

With a career in film, there is no set path.

"With film you just get tossed random cards, and then you decide how to play them," Bystrom said. "Seeing who I meet, and what I can do with who I meet, and so on. It's hard to make plans. I'm using this experience to work my way into the union, so I can make an official career out of it."