August grad produces documentary on Platte River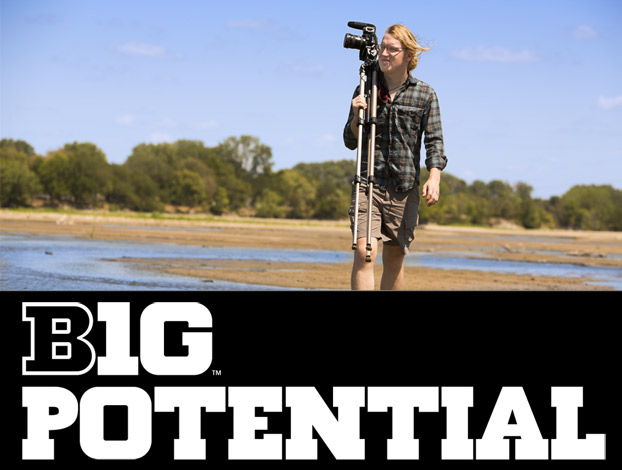 Growing up in Fremont, Steven Speicher's playground was the Platte River. It was where he went exploring with friends, canoeing, kayaking, and hiking up the river's sandbars until his exhausted legs couldn't take him any farther.

Even back then, as he pondered where the water came from as it rounded the scenic north bank, it sparked his curiosity.

But it wouldn't be until years later — while pursuing a degree in environmental studies and film studies at UNL — when he'd get the answers he'd long sought and so much more.

The August 2012 UNL graduate has spent the last year researching, shooting original footage and producing a short documentary that tells one of the river's many stories. The idea stemmed from his internship with Nebraska Educational Telecommunications (NET) where he was working with acclaimed conservation photographer Michael Forsberg and Michael Farrell, an NET special projects manager.

Since 2010, Forsberg and Farrell have led a time-lapse digital photo project documenting cyclical change along the Platte River Basin. Both the time-lapse project and Speicher's film aim to increase understanding of a river described as the "lifeblood of the region."


DOCUMENTARY FOCUSES ON HABITAT, MIGRATION

The video is posted at http://www.plattebasintimelapse.com/node/378

Speicher's documentary, which also served as his senior thesis, is focused on how different conservation organizations like the Rowe Sanctuary and the Platte River Recovery Implementation Program work to preserve habitat and raise public awareness of the Sandhill cranes' spring migration — when hundreds of thousands of the birds converge on the Platte River in central Nebraska.

Speicher is resourceful, talented and shows great initiative and that ultimately produced an excellent short documentary that adds context to the time-lapse project, Farrell said.

"He cares about what he does and it shows in his work," he said.

He's glad, too, that Speicher learned a lot through the process. Farrell hopes to offer other student interns a chance to pursue similar projects.

"In a sense he's kind of a pioneer for what we hope will become more commonplace," Farrell said.

Speicher said the experience sharpened his interviewing skills, honed his abilities as a visual storyteller, and helped him connect with key players in Nebraska-based conservation efforts.

But the biggest takeaway is that it brought him some clarity.

"This is what I want to do with my life," he said.


EXPLORATION LED TO DUAL FOCUS

That's miles from where he was a few years earlier. Before committing to environmental studies and film studies, Speicher dabbled in several other fields. The summer after his junior year, his desire to travel took him to New Zealand, where he volunteered with the Department of Conservation restoring grasslands and forestland. The experience changed everything, he said.

That fall, he dropped his broadcast journalism major and dove into UNL's environmental studies program.

He held onto his second major in film studies, and credits Sara Cooper, environmental studies chief adviser, for helping him bring his diverse interests together and determine how to use them to make an impact.

"As I got further into the major I realized what skills I had and what my passions really were," he said. "I found that they were using technology, media and visual narrative communication tools to inform people about scientific and environmental resources and issues and solutions."

Watching him make that connection and discover his path has been a real joy, Cooper said.

"Clearly he has found his way and this short documentary is the first of many stories he will tell the world through film," she said.


STORYTELLING IN GRAD'S FUTURE

Film Studies helped him strengthen his writing and analytical skills, while exposing him to visual themes to teach him how to be a visual storyteller. Environmental Studies brought out a new passion and positioned him to better understand threats to the environment and to be someone contributing to the solutions.

More generally, his liberal arts education, which included coursework ranging from computer science and math, to history and philosophy, has helped him develop marketable skills while preparing him to be a lifelong learner.

With his UNL degree in hand, he's eager to continue environmental documentary work. Attending graduate school also is on his to-do list.

"I want to keep learning and keep exploring ways I can apply video, media and scientific knowledge to other areas," he said.