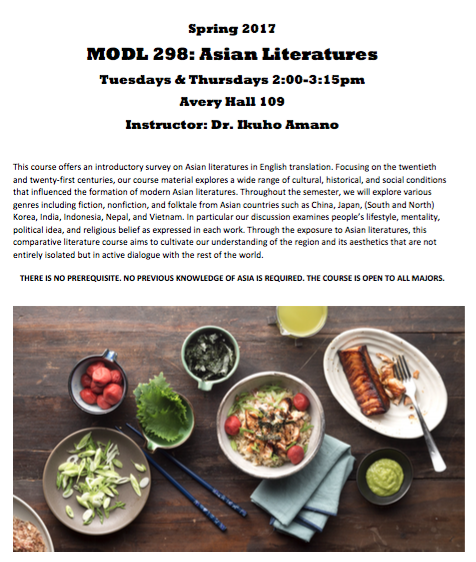 Looking for an Asia Regional Specialization course in spring 2017?
Consider taking MODL 298: Asian Literatures, Tuesdays & Thursdays 2:00-3:15pm in Avery Hall 109
Instructor: Dr. Ikuho Amano

This course offers an introductory survey on Asian literatures in English translation. Focusing on the twentieth and twenty-first centuries, our course material explores a wide range of cultural, historical, and social conditions that influenced the formation of modern Asian literatures. Throughout the semester, we will explore various genres including fiction, nonfiction, and folktale from Asian countries such as China, Japan, (South and North) Korea, India, Indonesia, Nepal, and Vietnam. In particular our discussion examines people's lifestyle, mentality, political idea, and religious belief as expressed in each work. Through the exposure to Asian literatures, this comparative literature course aims to cultivate our understanding of the region and its aesthetics that are not entirely isolated but in active dialogue with the rest of the world.