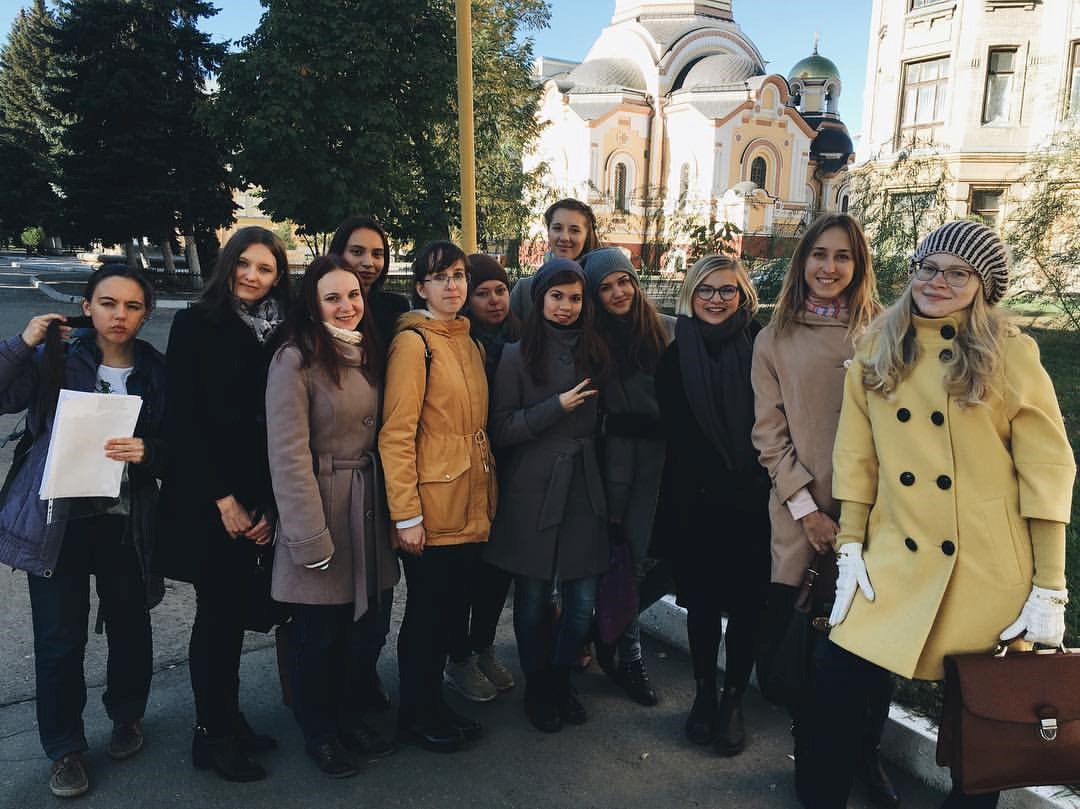 Name: Annie Himes
Majors: Russian, Global Studies, History
Minors: Spanish, English, Political Science, Women's and Gender Studies, Human Rights and Humanitarian Affairs

On Campus Involvement: UNL Honors Program, UNL Prevent, the Chancellor's Commission on the Status of Women, Daily Nebraskan, Omicron Delta Kappa, Chi Omega, EN Thompson Global Scholars, Research Assistant in the Department of Political Science

Off Campus Involvement: Volunteer Victim Advocate at Voices of Hope, Legislative Page in the Unicameral Legislature, Volunteer for Hillary for Nebraska, Intern at Nebraska Appleseed, Camp Counselor at YMCA Camp Kitaki

Where are you currently located and describe your current duties as an ETA.
I currently live in Saratov, Russia, where I teach English in Saratov State University's Faculty of Romance and Germanic Languages and Translation. Each week, I teach 8 English classes – 6 by myself and 2 as a TA – to 3rd and 4th year philology students. I work with approximately 80 students. All university courses in Russia are 1.5 hours long, so I teach a total of 12 hours a week. My students are all highly motivated and very advanced in their English study, so our classes focus mostly on speaking and writing. Many of my students are preparing to take the IELTS exam (similar to the TOEFL), so I am helping them prepare for IELTS essay prompts. My favorite part of teaching is when my students engage in lively debates on issues and really seize the opportunity to push and expand their language abilities.

In addition to teaching, I am also a student. Fulbright ETAs to Russia have the opportunity to apply for the Critical Language Enhancement Award (CLEA), which provides additional funding to study Russian for the duration of the Fulbright grant. I applied for the CLEA, not fully understanding what it meant; however, now I am so grateful I did. As a CLEA grant recipient, I work with two Russian tutors for a total of 7-8 hours each week. Taking advantage of this opportunity has been so integral to my experience here because without the CLEA, I would speak very little Russian. Working as an English teacher, most of my students and co-workers choose to speak with me in English. So I jump at any opportunity to speak Russian. The CLEA grant has been vital to my continued Russian study during my Fulbright grant.

Lastly, I have taken advantage of my Fulbright grant to study beginning French at Saratov State University. I have always wanted to learn French, but I did not have the time in my schedule to take it at UNL, so now I am learning French taught in Russian. It is both challenging and stimulating. I am thinking about contacting the local Alliance Francaise to pursue some private French tutoring.

As a Fulbright ETA, I am consistently busy, but I am not overwhelmed. In many ways, it feels like I have simply extended my undergraduate study for a fifth year abroad.

Why did you apply for Fulbright ETA?
I applied for the Fulbright ETA grant because I wanted to live abroad and improve my Russian. Fulbright in many ways is like a program abroad with much more independence. In comparison to my time studying abroad with CIEE in St. Petersburg, Russia as a junior at UNL, I have had to figure out much more on my own as a Fulbright. This has made my experience challenging and exciting. Furthermore, the Fulbright has encouraged me to become very integrated in my community and make friends with the many amazing people around me. When I studied abroad the first time, I was consistently surrounded by a group of Americans, and in many ways, this insulated me from fully experiencing Russian culture. As a Fulbright, I have not met any other Americans in Saratov, so I have been encouraged to really become a part of the community around me in a positive way. Not having this cushion of other Americans has opened my eyes to aspects of Russian culture and daily life that I missed my first time abroad.

Tell us about the city, country, and the overall experience thus far.
My experience thus far has been only positive. My department has welcomed me with open arms, supporting me as I figure out my new life in Saratov. My department's chair, Tatiana Valerievna, even came over to my apartment to help me hang up new curtains. Another one of my colleagues who lives in my dormitory lets me come over to her apartment every Sunday to use her washing machine. Living in Saratov without another Fulbright in the city was definitely scary at first, but everyone around me has been so welcoming and made my transition much easier.

What is your advice for current GLST majors interested in applying for Fulbright in the future.
Apply for the Fulbright – you have nothing to lose! Even if you are unsure and don't know if the Fulbright is right for you, APPLY! The Global Studies department along with Dr. Damuth in the Fellowships Office will guide you through the process. It can seem like an intimidating process at first, but it is entirely worthwhile.

As your writing your application, use it as an opportunity for reflection. Take some time to think about who you are, what you value, and why you specifically could make a positive impact with a Fulbright grant. Stay true to yourself as you complete your application.

Lastly, it doesn't hurt to pursue some relevant experience early! Find a position as a teaching assistant at UNL, begin volunteering at Lincoln Literacy, work as a foreign language tutor, befriend international students at UNL. All these experiences will help prepare you to apply for the Fulbright ETA Grant and to be a successful Fulbrighter once you win!
More details at: https://us.fulbrightonline.org/about/types-of-awards/english-teaching-assistant-awards