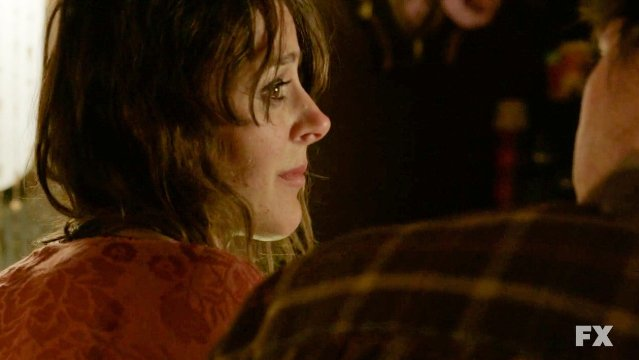 Abby Miller, a 2003 graduate of the University of Nebraska-Lincoln's Hixson-Lied College of Fine and Performing Arts, has seen her acting career take flight with her portrayal of Ellen May on the critically acclaimed FX drama "Justified." We checked in recently (as in, one day after her character narrowly escaped a permanent exit from the series) with Miller, a native of Clay Center who now calls Los Angeles home, for a quick chat about the show, her character's future, and what we can expect next from the actress.
UNL News: What a wild season for your character so far on "Justified." In Tuesday's episode, it was looking like Ellen May was done for. So we're glad she's still kicking so we can continue to see your work on screen. But it's got to be stressful working on a show where your, um, time could come at any moment, doesn't it?
Abby Miller: Yeah….I don't think there's been a single episode where I haven't worried about Ellen May's safety. This one was super exciting to work on though because we knew the audience was truly gonna think 'she's a goner.' It was so much fun to play those happy moments. For example, the scene in the car with Colt, because you knew the audience was in on the secret: Ellen May was gonna die. But then she didn't! And that made me happy. This show definitely keeps me on my toes.
UNLN: Can you give us any hints of what happens next with Ellen May? Or will we get you in trouble with your show? We don't want you to get written out because of something we said …
AM: Ha…well…eek! I really can't say much without spoilers. And I wouldn't want to reveal too much, so you'll just have to watch! One thing I can say, though, is Ellen May is alive. And … nope, that's all I'll say. She's alive and … she's alive.
UNLN: OK, you can't blame us for trying, though, can you? You've appeared in some notable shows – Gilmore Girls, Mad Men – but is this role the most fun you've had as an actress? Why?
AM: This is the most fun I've ever had as an actress — because, well, this experience is unlike anything I've done before. I love the crew, the cast, all the directors and writers. I feel as though I'm part of the family on this set. And that's such a gift. Also, Ellen May is a character in the truest sense of the word. I get to play with her accent, the way she moves. She doesn't feel like me, you know? Like, I'm playing Abby every day. And that's really fun and exciting.
UNLN: We're also big fans of your musical work as one-half of the group Jen & Abby. We'll still hear people talk about that awesome Nebraska Rep concert the two of you gave back in July 2011. Any plans to get the group back together in your spare time?
AM: Not at the moment, unfortunately. Jen is doing some touring in Asia right now with another project, and — well, you know, I've got "Justified." Maybe someday, but not right now.
UNLN: Hey, when's the next time you think you'll make it back to Nebraska? We think maybe Ellen May should take that car she stole at the end of the last episode and just drive up here to the Cornhusker State.
AM: Ha! We'll see about that. That would be fun to see, though, huh? But in all seriousness, I come back to Nebraska at least once a year to see my parents and the rest of my family. I haven't been back to Lincoln in a couple years, though. Hopefully soon.
UNLN: Do you still keep in touch with the gang at Hixson-Lied?
AM: I do! I've known Paul Steger for years. A lot of my professors are still there, like Virginia Smith and Harris Smith … my friend Todd who works in the office. It's great. Feels like coming home.
UNLN: What would you say to a theater student on campus today? Got any advice for the next generation of Husker actors and actresses?
AM: Probably the biggest advice I've got, in this present moment, is just to have fun. It's really that simple. If you focus on having fun you'll be more relaxed, which will lead to more play time, and then more choices. It's like following the rule of improv "say yes"…plus, you'll remember why you fell in love with performing in the first place. It should be fun. Always…your life and your livelihood will be so much easier. I promise you.
UNLN: It seems like the sky's the limit for you, Abby. In what roles can we expect to see you turn up next?
AM: I honestly don't know. I did some wonderful indie features this past year that should premiere soon. I'd love to continue focusing on character work. All of my biggest actor influences are character actors. So we'll see! I'd love to venture outside of Ellen May's world for a bit. Hopefully revisit her next season? We'll see. I have to survive this one first.