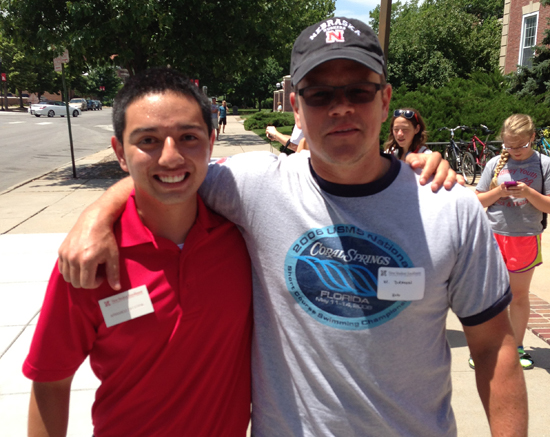 Pat McBride is always on his game when it comes to delivering New Student Enrollment presentations. But the UNL associate dean of admissions felt some added pressure as he stepped to the podium on July 10.
"I kept thinking 'Matt Damon is here, sitting in the back of the room. I need to give a really good presentation,'" McBride said. "It's not that often you have a guy like that sitting there listening to you."
The Hollywood actor/director attended the University of Nebraska-Lincoln's New Student Enrollment event with a student he referred to as "a nephew." McBride said university officials were unaware Damon would be on campus until he registered Wednesday morning.
"Our student worker who registered him didn't realize who he was until he heard the voice. Then he knew," McBride said. "The worker was busy registering others attending and couldn't get away to let anyone know (Damon) was here. We found out about it about ten minutes later."
McBride said NSE administrators decided to not give preferential treatment to Damon and let him experience the registration experience like any other parent, guardian or student guest.
"We wanted to just treat him like any other guy," McBride said. "That's how he acted when he registered and that's how we felt he wanted to be treated."
Damon attended morning NSE sessions, sneaking away once to go get a coffee. During that trip, people in the Nebraska Union recognized Damon and sightings started popping up via social media channels.
Armando Becerril, an NSE student worker (pictured with Damon, above), led the campus tour group for Damon's nephew. Becerril said he tried to keep the identity of the student's famous uncle from spreading, but soon students in the tour group started to ask if they could get photos and/or autographs.
The student agreed, called Damon and set up an impromptu photo opportunity outside the Nebraska Union shortly after noon.
"Mr. Damon was great. He took time to pose for a group and individual photos," Becerril said. "There were about 50 people wanting photos. He agreed to all of them and even signed a few autographs."
McBride said that overall, Damon's appearance on campus was positive. He said faculty, staff, students and the public handled the surprise situation well. McBride also said Damon's attendance did not appear to overshadow the experience of others attending New Student Enrollment on Wednesday.
"In the end, that was our goal," McBride said. "We wanted everyone to walk away having a very positive experience. We wanted it to be just another day at New Student Enrollment."
– Troy Fedderson, University Communications