It was a busy final day in the Nebraska Legislature today, as senators voted to restore taxpayer-funded prenatal care benefits for illegal immigrants, overriding an earlier veto by Republican Gov. Dave Heineman. The governor argued the state should not spend tax dollars to provide care to women who are in the country illegally, while supporters and medical experts said a lack of prenatal care could lead to birth complications and developmental problems that cost the state far more than the expense of providing care to women.
Beth Burkstrand-Reid of the University of Nebraska College of Law is an expert in how the law intersects with reproductive rights and women's health, and has been following the debate at the statehouse closely. Check out her Twitter feed for her quick insights on the override.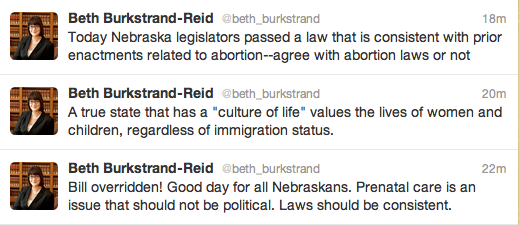 Prof. Burkstrand-Reid can be reached at 402-472-3158 or bburkstrand-reid2@unl.edu.