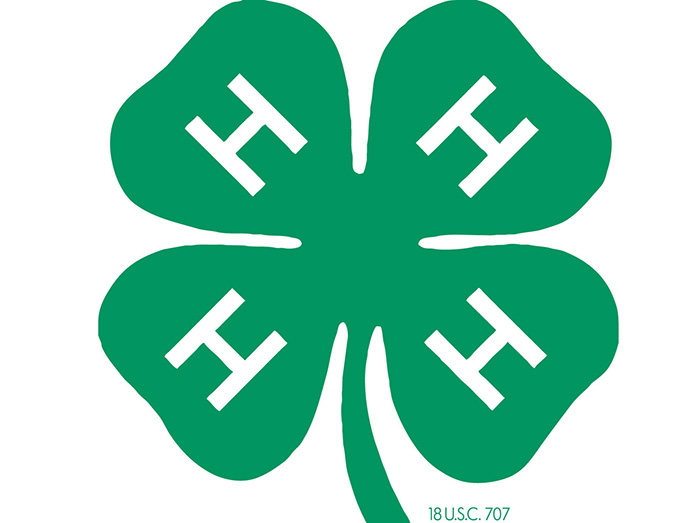 The Lancaster County 4-H program — a partnership between Nebraska Extension and the Lancaster County government — would like to thank all of the businesses, organizations and individuals who sponsored 4-H events, activities, programs and trophies during the 2019 4-H year. This support enhances the educational experience of the 4-H youth.

9 South CharGrill
Tracy Anderson
Anonymous
Deborah Arends
Arends Interiors, Inc
Matt & Connie Arnold
Arrow Pest Control
Artisan Custom Builders
Chet Axthelm Memorial
Jason & Cathy Babcock
Jim & Cindy Bauman
Beach Family
Belmont Husky
Gary Bergman
BigShots Indoor Range
The Bike Rack
Black Label Photography
Blazing Saddles, S & L Stables & Purdum Family
Bluestem Miniature Horse Club
Bluestem Valley Farms
Bowen Family
Paula Brandt
Sher & Randy Brophy
Bunz Family
Mary Burroughs
Casey's General Store
Cattlemen's Nutrition Services LLC
Capital City Horse & Pony Club
Captain's Chair
Champions Fun Center
Ellen Chapelle Memorial
Warren Cheney Family
Chipolte (60th & O)
The City of Lincoln
Cliff's Smoke Shop
Colby Ridge Popcorn
Shirley Condon
Mike & Kath Conroy
Cooper Specialty Feeds
Cornerstone Stables – Heidi Wubbels
Cornhusker Pony Club
Costco
Craft Axe Throwing – Lincoln
Crawford Family Shorthorns
Crooked Creek
Cultiva Coffee
Culvers (4121 Pioneer Woods Dr.)
Custom Pallet Makers, Inc.
Shane & Pam Cuttlers
Dairy Queen Grill & Chill (760 W. O St.)
Danley Family
Danny's Downtown Deli
Emalea Dean
Suzi Dearmont
Diamond T Livestock
Dick & Cookie Confer
Alice & the late Ted Doane
Donlan Family
Lynn & Carleen Dowding
Ron & Arlene Dowding
Dowding Shorthorns
Duffers Golf League
East Campus Staars
East Park Cinema — Marcus Theatres
The Eatery
Edward Jones – Matt Mullendore
Ehlers Animal Care
Empyrean, Lazlo's & Fireworks
Mark & Sarah Fahleson
Famous Dave's Bar-B-Que
Farm Credit Services of America
Farmer's Cooperative
First State Bank Nebraska (2701 Grainger Pkwy)
Fitch Trucking, Inc.
Five Alarm Farm
Five Star 4-H'ers 4-H Club
Shirley Flynn
The Fort
Jodi Freeman
Joe & Lois French
Frink Family & Hard Knock Horse Shoe'N
Four Winds Farms
Gana/Nisley Show Cattle
Melvin & Linda Gagner
GameSchool Volunteers
Garr Creek Farms
Gate 25 Bar & Restaurant
General Fire & Safety
Blayne Glissman Family
Gossin Agency
Greater Lincoln Obedience Club
Griess Family
The Groom Room
Kris & Emily Haack
Cody & Karen Hanson
Patricia Heather
Dee & Walt Hemgren
Tari Hendrickson
Lyle & Theresa Hepsen
Hidden Valley
Higgins Family
Hillcrest Animal Clinic & Kelly Stich, DVM
HL Muhlbach Construction
Mark & Karen Hoffman
Hollman Angus Farms
Holthus Family
The Home Agency
Fred & Julie Hoppe
Larry & Carol Hudkins
Hunter's Pride 4-H Club
Husker Rehabilitation & Wellness Centers PC
Hy-Line Hatchery
IGA Market Place
Jake's Cigars & Spirits
James Arthur Vineyards
Jimmy John's
Jeff & Anne Johnson Family
Johnson Family Livestock
Doug & Cheryl Johnson
JT Home Solutions
Amanda Kaiser
Kansas City Royals
Steve & Deanna Karmazin
Joe & Lisa Kerrigan
Deborah Kinney
Kiwanis — Lincoln Center
Kiwanis — Northeast
Kubicek Club Lambs
Lancaster County Agricultural Society
Lancaster County Engineers
Lancaster County Farm Bureau
Lancaster County 4-H Council
Lancaster County 4-H Dog VIPS
Lancaster County 4-H Horse VIPS
Lancaster County 4-H Livestock Booster Club
Lancaster County 4-H Rabbit VIPS
Lancaster County 4-H Teen Council
Lancaster Event Center
Lienetics Ranch
Lincoln Children's Zoo
Lincoln Escape Room
Lincoln Stars Hockey
Lincoln Women's Chamber of Commerce
Mike & Dana Lockee
Scott & Cheryl Lorenson
Lost in Float
Mac's Creek Winery & Vineyards
Cole & Kylea Meador
Meier's Cork & Bottle
Denise & Kevin Meyer
Midwest Farmers Cooperative (Martell Branch) – Jim Bauman
Midwest Bank
Angela Mittan
Jerry & Shirley Morris
Mueller Farms
N Street Liquor
Nebraska 4-H Foundation
Nebraska Dressage Association
Nebraska Game & Parks
Nebraska Lottery
Nebraska Realty – Heidi Wubbels
Steven & Stephanie Nelson
Neemann Refuse, Inc
Greg & Brenda Nepper Family
Corey Neukirch
New Victorian Inn
Nore Acres
Norris FFA
Olive Creek Acres Performance Horses
Omaha Storm Chasers
Diane Ossenkop
Orscheln Farm & Store
Outback Steakhouse
Oxbow Animal Health
Parrott & Walbrecht Cattle
Larry Pershing
Tom & Paula Peterson Family
Tom Peterson Farms
PILLAR Restaurant Group
Pioneer Greens Dentistry
Pitts Veterinary Hospital
Plautz Family
Tim Powers Memorial
Pulec Family
Purdum Family
Quilts of Valor Foundation – Lincoln & Adams County Chapters
R & J Angus Farm
Rainbow Ends
Raising Cane's
Sheri Ramirez
Rasby Family
Rauert Family
Raymond Grange #391
Bill & Barb Rishell
Rixstine Recognition
Runza (South 33rd)
Sampson Construction
Cary & Becki Sandell
Scheels
Schlesiger Family
Schoettger Orthodontics
Calvin & Rochelle Schrock
Brent & Sarah Sexton
Sid Dillon
Sieck Show Cattle
Erica Siemek
Joyce Furry-Sievers
Slim Chickens
Jennifer Smith
Sobotka Family
SP Group, P.C, Certified Public Accountants
State Farm – Vinnie Krikac
Juanita Stell
Dale & Marilyn Stertz
The Still
Ron & Barb Suing
Mitch & Kathy Sump (Bermel Memorial)
Marrilee Sump
Super Saver (Fallbrook)
The Swotek Family
Sysco
T.D. Angus
T & T Ranch & Sondgeroth Family
James & Jennifer Tietjen
Judy Terwilliger
Texas Roadhouse
Tractor Supply (North Store)
Tractor Supply (South Store)
Tractor Supply (Waverly)
Tredas
Triple RRR Farms
UNL College of Engineering
UNL Department of Entomology
UNL Federal Credit Union
Urijah Schnell
Wachal Pet Health Center
Walbrecht Family
Waverly Grange #369
Westgate Bank
West Plains LLC
Charles & Dorothy Wiechert
Wilhelm Auto Repair
Jay Wilkinson
Wilkinson Sheep Farm
Jim Wissel Memorial
Joan & the late Dwayne Wittstruck
Karen Wobig
Woodland Hills Golf Course
The Yarn Guild – Lincoln

If you notice any corrections, please call 402-441-7180.

THANKS VOLUNTEERS
Nebraska Extension in Lancaster County thanks all of the people who donate their time and talents to help enrich the lives of the youth in the Lancaster County 4-H youth development program.