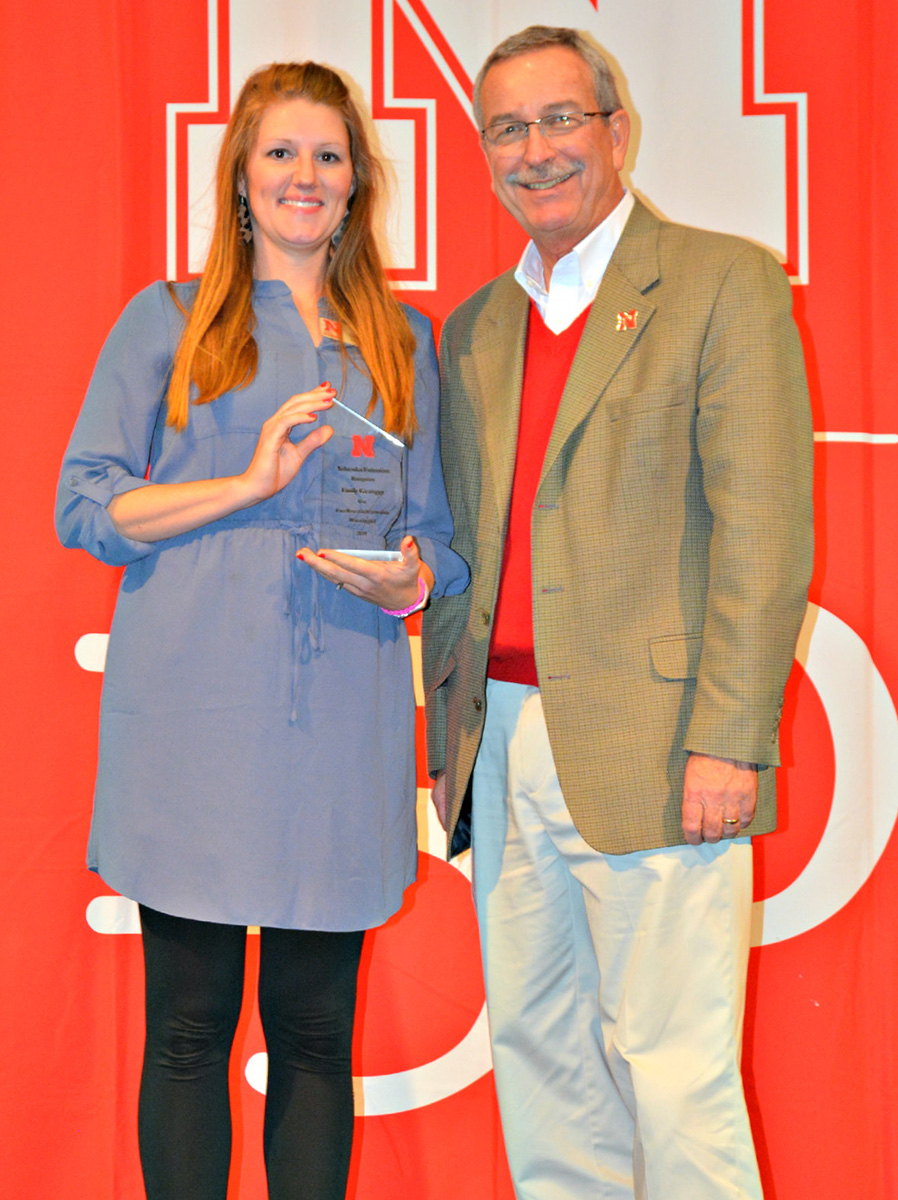 At Nebraska Extension's annual conference in November, several Nebraska Extension in Lancaster County staff earned statewide Extension awards.

• EXCELLENCE IN EXTENSION – MEANINGFUL award was presented to Extension Educator Emily Gratopp. Emily has been the Statewide Extension Educator for the Expanded Food & Nutrition Education Program (EFNEP) for two and a half years. She seeks to understand the meaning or purpose why something is being done and believes others need to know in order to have the biggest impact. Examples of her commitment to creating meaningful contributions to Extension, as well as the audiences she serves are:
* Focus group work with immigrant families which she graciously shared as a training for those within and outside of Extension.
* Commitment to streamline the new employee orientation process for Nutrition Education Program (NEP).
* Efforts in hiring culturally diverse staff to fill a cultural and language barrier/gap in Lancaster County.
* Efforts in leading the emerging work with improving the health outcomes within faith-based communities.
* Applying for and receiving local grants to help support the low-income families in Lincoln.

• EXCELLENCE IN EXTENSION TEAM – RELEVANCE award was presented to the Cultivating Healthy Intentional Mindful Educators (CHIME) team which included Extension Educator Jaci Foged. The project team of 13 members created and implemented a mindfulness-based reflection program (CHIME) for early childhood teachers to reduce stress and burnout, and enhance mindfulness and reflective abilities. The handbooks and materials were designed by support staff members Karen Wedding with assistance by Vicki Jedlicka. The results of the pilot study suggest that a professional development training consisting of mindfulness and reflection is well-liked and deemed helpful by early childhood educators. CHIME is being offered statewide by Learning Child Educators and visibility is growing nationwide.