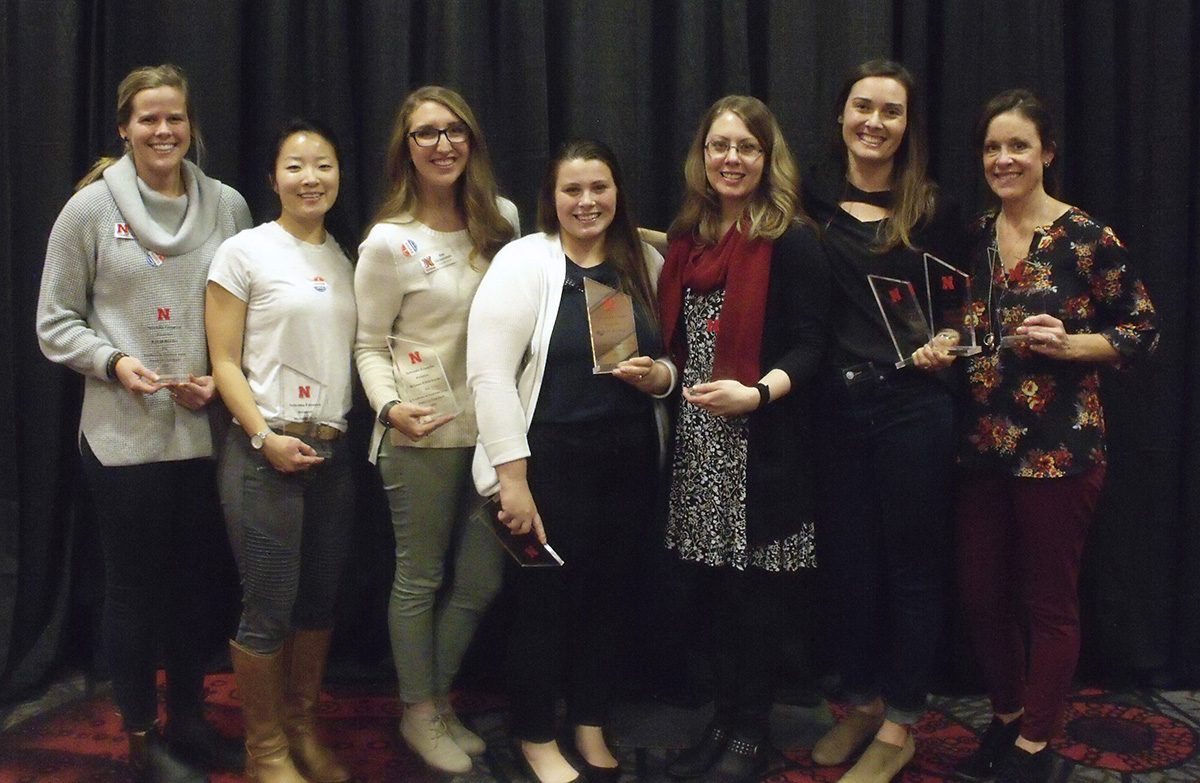 At Nebraska Extension's annual conference in November, several Nebraska Extension in Lancaster County staff earned statewide Extension awards.

• Excellence in Extension Team award in the area of "innovation" was presented to the Hail Know team which included Extension Educator Tyler Williams. The project team of 12 educators and specialists received $41,000 from USDA National Institute of Food and Agriculture to develop Extension resources to help crop producers and agricultural stakeholders prepare for and respond to hail. The project team identified resource gaps and developed a hail resource package consisting of a new website (cropwatch.unl.edu/hail-know), an infographic series and a video series. Focus was on hail events, crop damage assessment, crop insurance, replanting, managing a recovering crop and cover crops.

• Excellence in Extension Team award in the area of "exceptional teaching and learning" was presented to the Healthy Habits team which included Extension Educators Kayla Colgrove and Emily Gratopp. The 4-H Healthy Habits statewide grant, sponsored by National 4-H Council and Walmart Foundation, mobilized youth to take action around healthy food and physical activity choices. Thirty-six Extension professionals from 28 counties developed over 75 partnerships. More than 2,700 K–12th grade youth received at least six hours of nutrition, physical activity and food preparation education. Extension professionals mentored 54 volunteer teen ambassadors as part of the grant.

• Excellence in Extension Team award in the area of "engagement" was presented to the Double Up Food Bucks team which includes Extension Assistants Kyleah Bowder, Brie Frickenstein and Meredith Hein. The Double Up Food Bucks program provides SNAP participants with a one-to-one match to purchase fresh fruits and vegetables at specific grocery stores and farmers markets. In Nebraska, the program is implemented in Lincoln, Beatrice and Omaha by Nebraska Extension and funded by CHI Health, Children's Hospital & Medical Center and Community Health Endowment. The match makes it easier for low-income Nebraskans to eat healthier, supports family farmers and grows local economies. At a Lincoln farmers market from January to October 2018, participants spent an average $33.26 each visit, a 57 percent increase from the program's start in 2016.

• Epsilon Sigma Phi's Early-Career service award for the Nebraska chapter was presented to Extension Educator Tyler Williams. Epsilon Sigma Phi is a national Extension professionals' organization. The award pays tribute to a new Extension professional who has exhibited the potential for leadership and excellence in Extension program planning, delivery, evaluation and/or administration during the first 10 years of their career. Since 2015, Tyler has served Lancaster, Cass and Otoe counties, providing climate and agriculture education to more than 4,000 Nebraskans. Prior to that, he was an Extension Educator in Phelps and Gosper Counties for six years. Tyler's overall focus is on enhancing cropping system resiliency to climate variability, helping producers manage the impact weather and climate have on agricultural production.