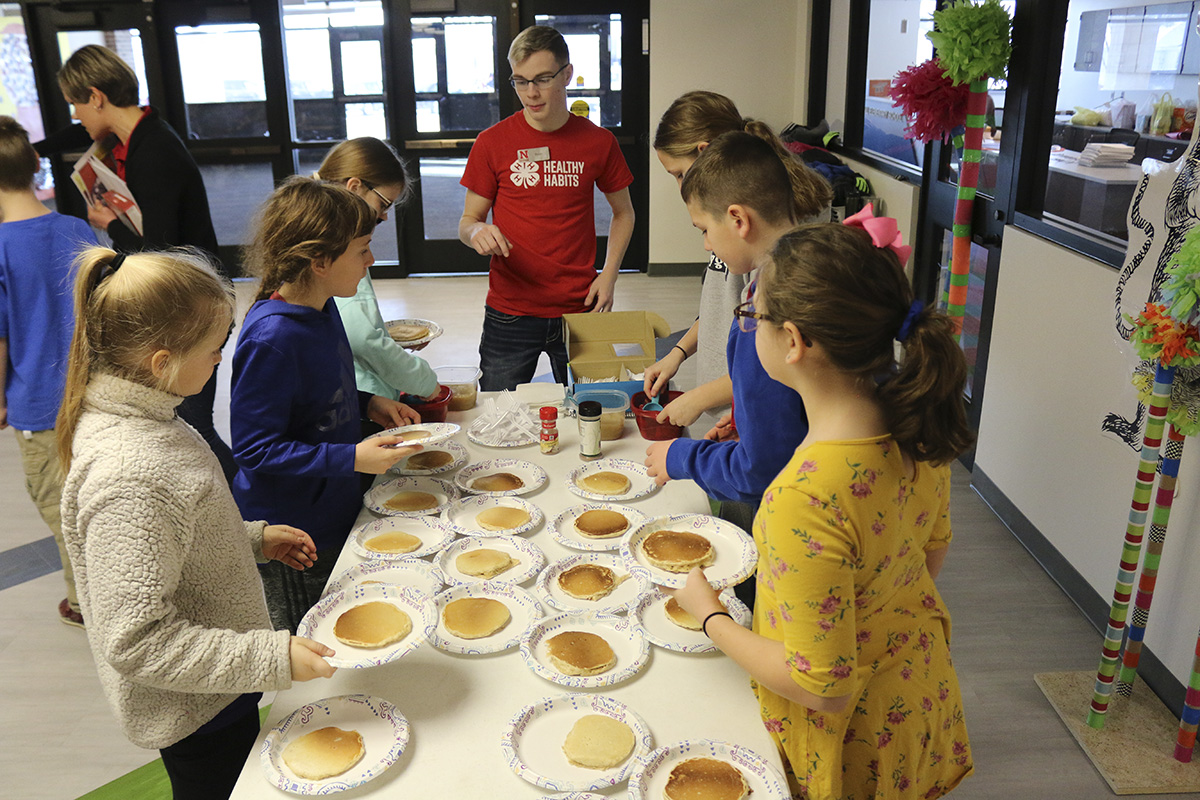 By Kayla Colgrove, MS, RDN, ACSM-CPT, Extension Educator, Lancaster Co. & Natalie Sehi, MS, RD, UNL Department of Nutrition & Health Sciences

Extension Educators Kayla Colgrove and Natalie Sehi, along with four teen ambassadors, collaborated with Malcolm Public School fourth grade teachers Stacy Kopecky and Beth Beach to offer the 4-H Healthy Habits program for a second consecutive year at Malcolm Westfall Elementary.

The Walmart Foundation 4-H Healthy Habits grant program encourages youth and their families to take action to improve dietary choices and increase physical fitness. Between November and March, 46 fourth-grade students at Westfall Elementary received six hours of education. They learned the importance of making healthy food choices and being physically active.

Teen ambassadors Ashlynn Sehi, Dillon Beach, Laura Reiling and Ryan Zoucha helped Colgrove and Sehi to plan, prepare and deliver six hours of nutrition education that focused on MyPlate, healthy beverages, fruits and vegetables, whole grains, eating healthier when eating out, the nutrition facts label and breakfast.

Students also observed and practiced making their own healthy snacks, including a smoothie, parfaits, pancakes, trail mix and fruit pizza. At the end of each lesson students received a family newsletter that provided nutrition tips and the healthy snack recipe.

Some of the fourth graders shared what they had taken away from the program.

"I learned more about MyPlate and how much fruits and vegetables you should have a day," Olivia Savicky said.

"I learned that eating healthy is a very good thing and that making a healthy snack is really easy and yummy," Laurel Johnson said.

The teachers and administration were supportive of the program.

"Healthy Habits has been a wonderful program for our fourth graders. Many of them are busy and on the go. This program teaches them to look at the food label and make healthy food choices even when they are busy. Many of them do not even realize how unhealthy some of the items they eat are until you point it out to them. They learn that they can enjoy these items in moderation and still choose a healthy lifestyle," Kopecky said.

More than 2,000 students and 50 teen ambassadors across Nebraska will have participated in the Healthy Habits program between October 2018 and August 2019. The teen ambassador program trains teens to be leaders and advocates for healthy living.

It is an opportunity for teens who like to interact with younger youth, lead games and activities, make and eat healthy snacks, help others learn, practice leadership skills and make a difference. Zoucha, who plans to become a teacher, said the program is helping him define his career goals.

"With the Healthy Habits program, I learned what it takes to be a teacher, or at least started to learn about it. This program has helped set me down a career of teaching and being healthy," Zoucha said.