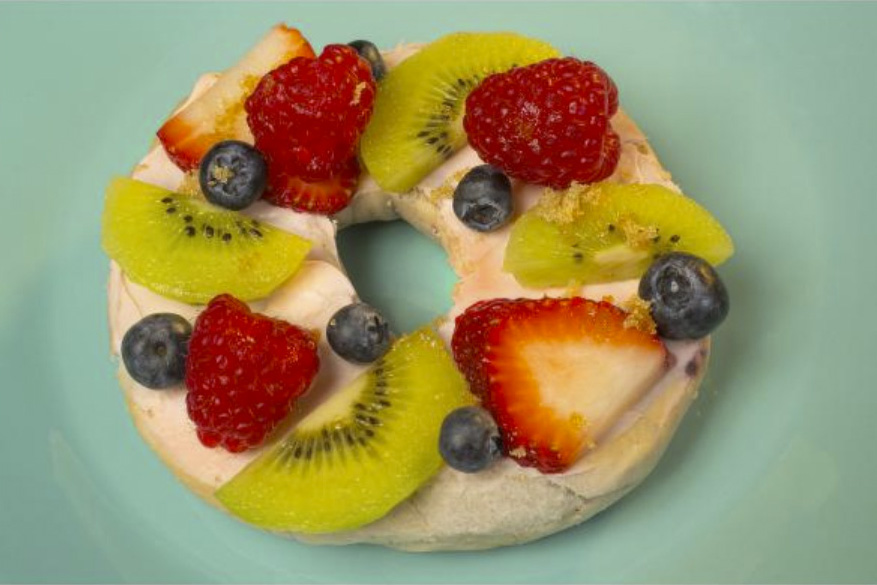 By Kayla Colgrove, MS, RDN, ACSM-CPT, Extension Educator, Lancaster Co.

I'm highlighting this recipe from Nebraska Extension's Nutrition Education Program (NEP) since many Malcolm students loved making and eating this recipe during one of their Healthy Habits class (see article in this e-newsletter). The mini bagels were topped with cream cheese and fresh blueberries.

FRUITY FUN PIZZA
(Makes 1 serving)

1/2 bagel
1 tablespoon cream cheese
2 tablespoons canned or fresh fruit, chopped
1 teaspoon brown sugar (optional)

1. Place bagel on plate.
2. Spread cream cheese on bagel.
3. Spoon fruit on top of bagel.
4. Sprinkle with brown sugar (optional).

Nutrition Facts Per Serving: Calories 160, Total Fat 6g (9% DV), Saturated Fat 3.5g (18% DV), Cholesterol 15mg (5% DV), Sodium 135mg (6% DV), Total Carbohydrate 24g (8% DV), Dietary Fiber 1g (4% DV), Sugars 9g, Protein 4g, Vitamin A 6%, Vitamin C 2%, Calcium 2%, Iron 8%. Nutrition information will change if substitutions are used.