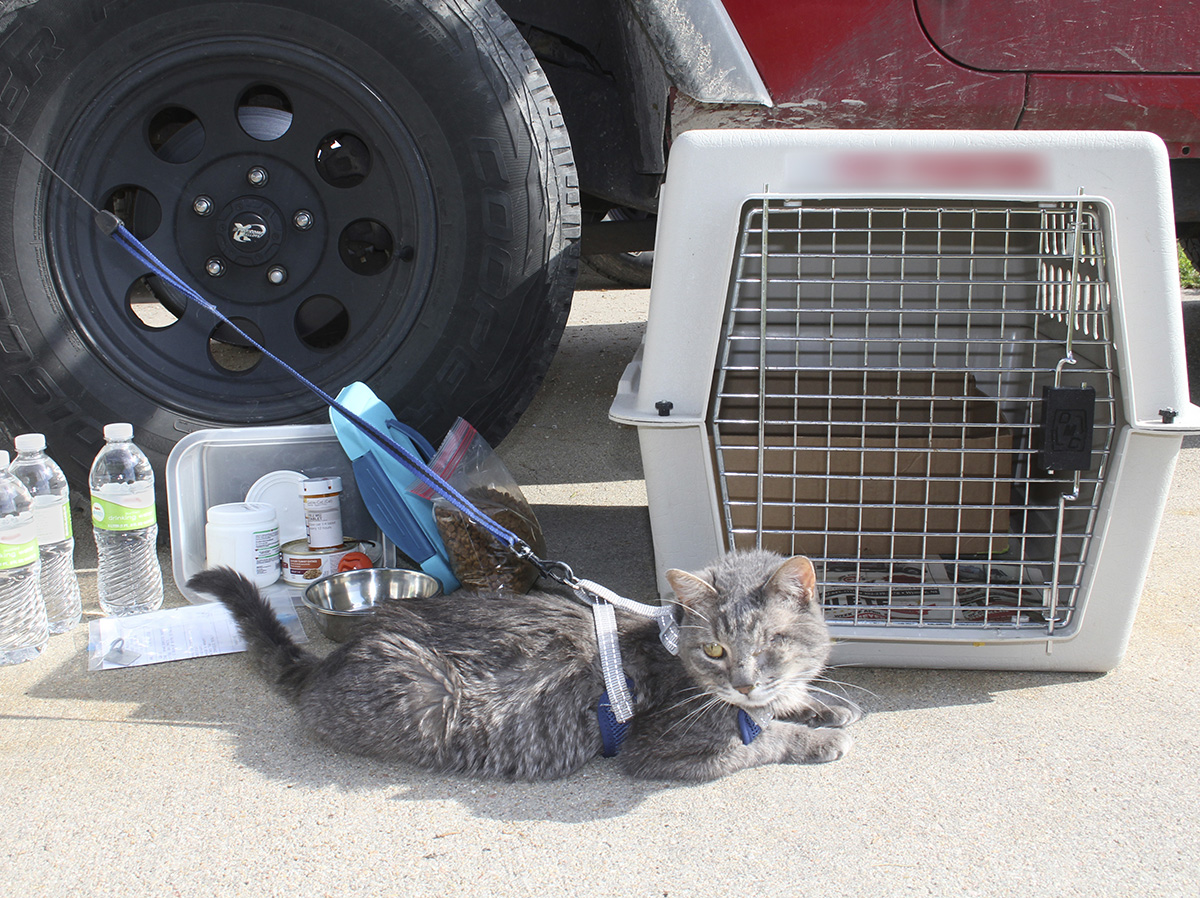 By Soni Cochran, Extension Associate, Lancaster County

A disaster can happen quickly. Assembling an emergency kit and making a communications plan are two important ways you can prepare to help keep you and your family safe. For many families, pets are also members of the household and their care should be included in an emergency plan.

PET EMERGENCY KIT
Preparing a pet emergency kit — the basics:
• Food*: Keep at least 3–7 days of food for each pet in an airtight container.
• Water*: In addition to water for your family, store at least
3 days of water for each pet.
• Medications*: If your pet takes medications regularly, store extra medications in a waterproof bag and add to the kit.
• First Aid: Talk to your veterinarian and ask what to include in a first-aid kit for your pet's emergency needs. A pet first-aid reference book should also be included in the kit.
• Crate or pet carrier: If you have to evacuate, a sturdy pet carrier can help transport and house your pet safely. Write your pet's name, your name and contact information on the crate or carrier.
• Collar, harness, leash and identification: Make sure your pet has identification and, if applicable, a rabies tag on at all times. Put an extra collar, leash and tags in the pet emergency kit. Talk to your veterinarian about permanent identification like microchipping and registering your pet on a national pet database. Put copies of your pet's registration and adoption paperwork, vaccination and medical records in a waterproof plastic bag. Also include a recent photo of you with your pet in the event you get separated.
• Sanitation: Depending on the type of pet, your kit may need litter, litter box, pet pads or crate liners, newspapers, paper towels, trash bags and disinfectant.
• Comfort: Help reduce your pet's stress by adding a favorite toy, bedding and/or treats to the kit. Be sure to bring bowls for food and water.

*Stored food, water and medications should be checked routinely to prevent spoilage or replace if expired.

EVACUATING WITH A PET
The Federal Emergency Management Agency (FEMA) reports animals left behind in a disaster can easily be lost or injured. If you must evacuate, take your pets with you.

Keep in mind, public shelters may or may not allow your pets inside the building. Your pet emergency plan should identify hotels or motels that allow pets, veterinarians, kennels or boarding facilities that are near possible evacuation shelters. Another option is to talk to family and friends to see if they are able to take you and your pets in if there is a disaster.

Your pet emergency plan should also include a back-up plan in case you can't get home during a disaster to evacuate your pets or care for them.

Visit http://www.ready.gov/animals for more information and resources.

Sources: Federal Emergency Management Agency (FEMA), ASPCA, Humane Society of America and The American Kennel Club.