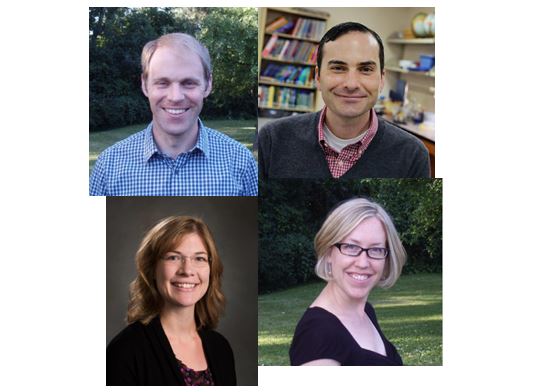 Early this year the Institute of Agriculture and Natural Resources (IANR) at the University of Nebraska-Lincoln (UNL) announced an immediate initiative to hire 36 new tenure-track faculty members in areas critical to meeting the agricultural and natural resource demands of a growing population. The first wave of new hires was geared towards adding faculty as part of the Science Literacy Initiative as well as filling other critical positions. With the addition of four new faculty with a focus on science education, UNL is on its way to emerging as a global leader in science literacy for PK-12 students, undergraduate and graduate students and society.

Related story: http://newsroom.unl.edu/announce/ianrnews/2598/14263

The biographies of the new hires are included below.

Joe Dauer
Life Sciences Education
School of Natural Resources

Joe Dauer grew up in Spokane, Wash., and received his B.S. in Biology/Mathematics from Western Washington University. During his graduate studies, Joe focused on long-distance weed seed dispersal in agroecosystems, coupling mathematical modeling with weed management for his M.S. and Ph.D. in Ecology at Penn State. After returning to the Pacific Northwest and Oregon State University for a postdoc in applied ecology, he became interested in better teaching techniques and understanding how students learn about biology. He then moved to Michigan State University where he continued invasive plant ecology research and began in earnest to pursue research on learning in undergraduate biology. At UNL Joe will contribute to teaching in the new introductory LIFE series and conduct research on how undergraduate life science students use models (conceptual and mathematical) to organize their thinking about biological systems. Beyond work, he enjoys running, camping, biking, and dabbling with cheese making.

Cory Forbes
Science Literacy Coordinator
School of Natural Resources

Cory Forbes joins IANR as the Science Literacy Coordinator and Associate Professor of Science Education in the School of Natural Resources. Forbes holds a B.S. in Ecology and Evolutionary Biology and M.S. in Science Education from the University of Kansas and M.S. in Natural Resources and Ph.D. in Science Education from the University of Michigan. He is PI on three externally-funded projects, including the NSF-funded Modeling Hydrologic Systems in Elementary Science (MoHSES) project, each of which involves regional, national, and international partnerships with education researchers, STEM faculty, and practitioners. Through these projects, Forbes has pursued an active discipline-based educational research program, including studies of 3rd-grade students' learning about biological structure and function and hydrologic systems, as well as elementary teachers' enactment of science curriculum modules, implementation of formative assessment practices to support students' learning about water, and pedagogical reasoning about food systems. Forbes is actively involved in science teacher education, leading efforts to implement reform-based programs and courses that prepare elementary teachers to support students' science learning.

Jenny Melander
Science Literacy Specialist
Biological Systems Engineering

Jenny Melander returned to the University of Nebraska-Lincoln last fall as an Extension Assistant Professor in BSE. She earned her Bachelor's and Master's degrees from the BSE Department in 2003 and 2005. She then completed a Ph.D. and spent two years as a post-doctoral fellow at the University of Missouri-Kansas City. Her past research focused on developing and testing new biomaterials for dental and orthopaedic applications. Jenny is enjoying her new role focused on developing biomedical engineering youth programs and expanding non-formal STEM education through outreach programming in the areas of food, fuel, and water. Through her efforts, she hopes to empower youth through STEM creativity.

Jenny Dauer
Assistant Professor of Practice
School of Natural Resources

Jenny Dauer grew up in a small town in the wilds of northeastern Pennsylvania. Her BS (2000) was at Penn State in Secondary Education and Biology and after student teaching she worked in informal education. She returned to Penn State to do a Masters in Ecology (2005) where she studied calcium ecophysiology of forest trees. Jenny's Ph.D. research at Oregon State University (2012) was studying nutrient cycling of calcium in forests of the Coast Range. After graduate school she knew that she wanted to help people understand science through her research and teaching. So, at Michigan State University she began her now central work on how student's learn and how to best teach carbon transforming processes, carbon cycling and global climate change. She is very excited to continue this work at UNL in the School of Natural Resources. There are many activities that Jenny enjoys including cooking, running, hiking, travel, pastels, banjo, piano and spending time with family.