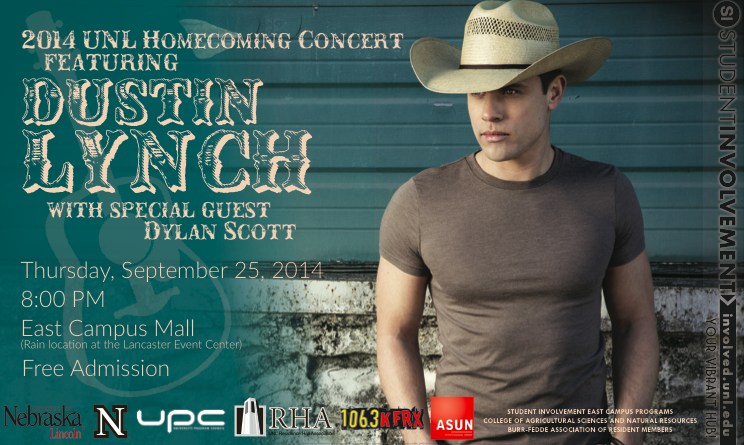 The University Program Council (UPC) and KX 96.9, along with Student Involvement East Campus Programs, College of Agricultural Sciences and Natural Resources (CASNR), ASUN Student Government, Burr-Fedde Association of Resident Members, and Residence Hall Association (RHA) are proud to present the 2014 UNL Homecoming Concert featuring Dustin Lynch with special guest Dylan Scott. The show will begin at 8pm on Thursday, September 25, 2014, on the East Campus Mall. Admission is free for all UNL students, faculty, staff, and alumni. In case of inclement weather, the concert will be relocated to the Lancaster Events Center.

Since beginning his musical career, Dustin Lynch has been recognized as one of the most successful young artists in country music. Known for his classic country sensibilities, Lynch brings traditional style to the contemporary pop-country music scene in an exciting fusion of old and new. His first major hit, "Cowboys and Angels," skyrocketed to number one on Billboards Top Country Hits after its release in 2012 and quickly gained him fame and notoriety. Shortly after, his edgy hit, "She Cranks My Tractor" was ranked in the Country Top 20 Countdown and landed him a spot as the opener for Keith Urban on his "Light the Fuse" tour. In the past three years alone, Lynch has performed at the CMT Awards, MTV Awards, and countless other concerts and benefits along-side some of the best and brightest in country music. His next album, "Where It's At," is set to release this fall and will surely showcase Lynch's extraordinary talents even further.

Dylan Scott is a young, up-and-coming singer who has dreamed of performing on the country stage since he was a young boy. His gravely baritone stands out and puts him in the same vocal category as so many of the country "greats." A native of Louisiana, Scott won the annual Colgate County Competition and later released his debut single "Makin' This Boy Go Crazy."

The University Program Council (UPC) is a student organization that provides diverse, educational and entertaining programs to enhance the UNL community. UPC acts as the executive body responsible for the implementation of programs and activities funded by University Programs and Facilities Fees (UPFF). For more than 75 years, UPC has been providing entertainment for UNL students in the form of films, speakers, concerts and more! For more information, please visit: http://involved.unl.edu/upc or follow UPC Nebraska on Facebook and Twitter.
More details at: http://go.unl.edu/pghg