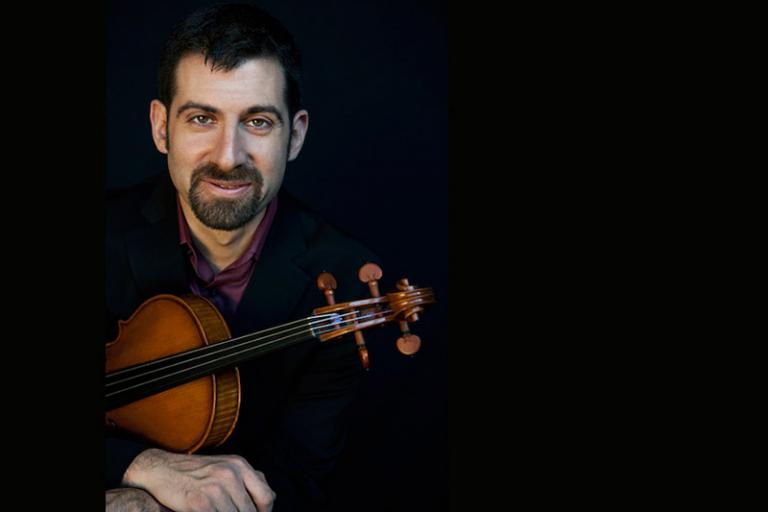 On Monday, September 22, 2014 at 7:30pm, violist and UNL faculty member Jonah Sirota will perform a recital featuring composer Robert Sirota's Compendium de Lumine at the University of Nebraska-Lincoln's Kimball Recital Hall (11th and R Streets). The recital's program, titled "New Works for Viola," will also include the world premiere of Rodney Lister's Complicated Grief and Damon Lee's Still Untitled for Viola and Digital Tanpura.

Jonah Sirota is a violist of the Chiara String Quartet, now in their tenth year as the Hixson-Lied Artists-in-Residence at the University of Nebraska-Lincoln. The concert will be the second concert live-streamed online from UNL's Kimball Recital Hall (music.unl.edu/webcasts), in the school's new initiative to bring concerts to a worldwide audience. The videos are also available on the Glenn Korff School of Music YouTube channel after the performance date (http://www.youtube.com/user/UNLSoMusic).

"This program features brand-new works by three composers who are close to me in some way," Jonah Sirota said. " As there is a strong tradition of using the dark tone of the viola for melancholic music, I have challenged each to write a piece for solo (unaccompanied) viola that is not an elegy. Each composer has approached this challenge in a totally unique way. I am especially excited to be presenting the world premiere of Rodney Lister's Complicated Grief, alongside performances of Damon Lee's Still Untitled (a work which features the solo viola with a digital Tanpura synthesizer from India), and a work by my father Robert Sirota entitled Compendium de Lumine (which catalogues, in sound, the feel of six different kinds of light). Please join us for an amazing night of discovery!"

Of Compendium de Lumine Robert Sirota explains, "Since both of our children are accomplished violists, I have had the good fortune to be asked by them to write a number of works for that instrument. Compendium de Lumine (2013) is the latest entry in this series. Jonah wanted something that was 'not elegiac' – no problem. Since he is truly a master of his instrument, I took this as an opportunity to push the boundaries of my technical expertise, seeking maximum variety of color and expression. The somewhat encyclopedic title posits a cataloguing of various kinds and qualities of light, which the movement titles enumerate: Mane (Morning), Meridies (Noon) Aqua (Water), Luna (Moon), Stellae (Stars), and Sol (Sun)."

About Jonah Sirota
Chiara String Quartet violist Jonah Sirota is known as a soloist and chamber musician of great range and depth. Since making his concerto debut with Alan Gilbert and the Juilliard Pre-College Symphony at the age of 17, he was third prize-winner in the 2006 Naumburg Viola Competition, and won further concerto competitions at both Rice University and at the Juilliard School. A champion of new music, he has commissioned and premiered new viola works from Gabriela Lena Frank, Arthur Joseph McCaffrey, and Alexis Bacon, as well as a concerto by his father, composer Robert Sirota. He is also one-half of the improv and new music duo Mondegreen with organist Kurt Knecht. He has performed at the Marlboro, Norfolk, Yellow Barn, and Aspen music festivals.

Mr. Sirota has studied with Martha Katz, Roberto Diaz, and Samuel Rhodes, among others. He graduated magna cum laude with a Bachelor of Music degree from Rice University, and then received both a Master of Music degree and an Artist Diploma in String Quartet Studies from the Juilliard School. He also studied aesthetic education and audience engagement at Juilliard with master teacher Eric Booth. In addition, he has written a travel blog for the Journal of the American Viola Society.

As a viola professor, Mr. Sirota specializes in highlighting awareness of the body-mind connection as it applies to technique and musicianship. He has used his own successful experiences in fighting performance-related injuries to help students fix injuries, reduce tension in their playing, reduce fear in their approach to performing and career, and become engaging and engaged musicians and artists. Mr. Sirota plays on a copy of a 1755 Testore viola made by Gregg Alf of Ann Arbor, Michigan in 2009.
More details at: http://go.unl.edu/qvwn