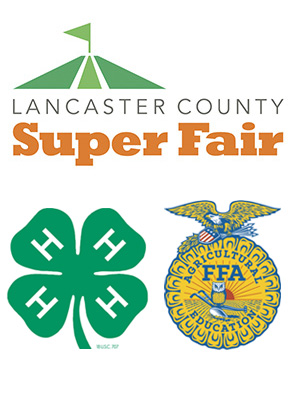 No general public at in-person events, but everyone may celebrate 4-H'ers fair projects through livestreaming and public online showcases! Some of the following planned public showcases will be posted during fair, some afterwards. Livestream schedule and links to all public showcases will be posted at https://lancaster.unl.edu/4h/fair/publicshowcases.

YOUTUBE (http://www.youtube.com/user/4HLancasterNE)
• 4-H will livestream as many shows as possible, which will then be automatically archived.
• Fashion Show Cyber Runway Show video with ribbons and winners announced.

FLICKR (http://www.flickr.com/photos/unlextlanco/albums):
• Table Setting online showcase
• Clover Kids Virtual Show & Tell videos
• Photos from animal shows

FAIR VAULT ONLINE MEDIA SLIDESHOWS
• Static exhibits with names of exhibitors

SOCIAL MEDIA POSTS:
• Facebook @UNLExtensionLancasterCounty
• Twitter @LancasterCo_4H

VIRTUAL SCAVENGER HUNT PRESENTED BY LANCASTER AGRICULTURAL SOCIETY
• Keep an eye on https://superfair.org and on Facebook, Twitter & Instagram @SuperFairLNK for details to win free food and drink at Lancaster Event Center fairgrounds!