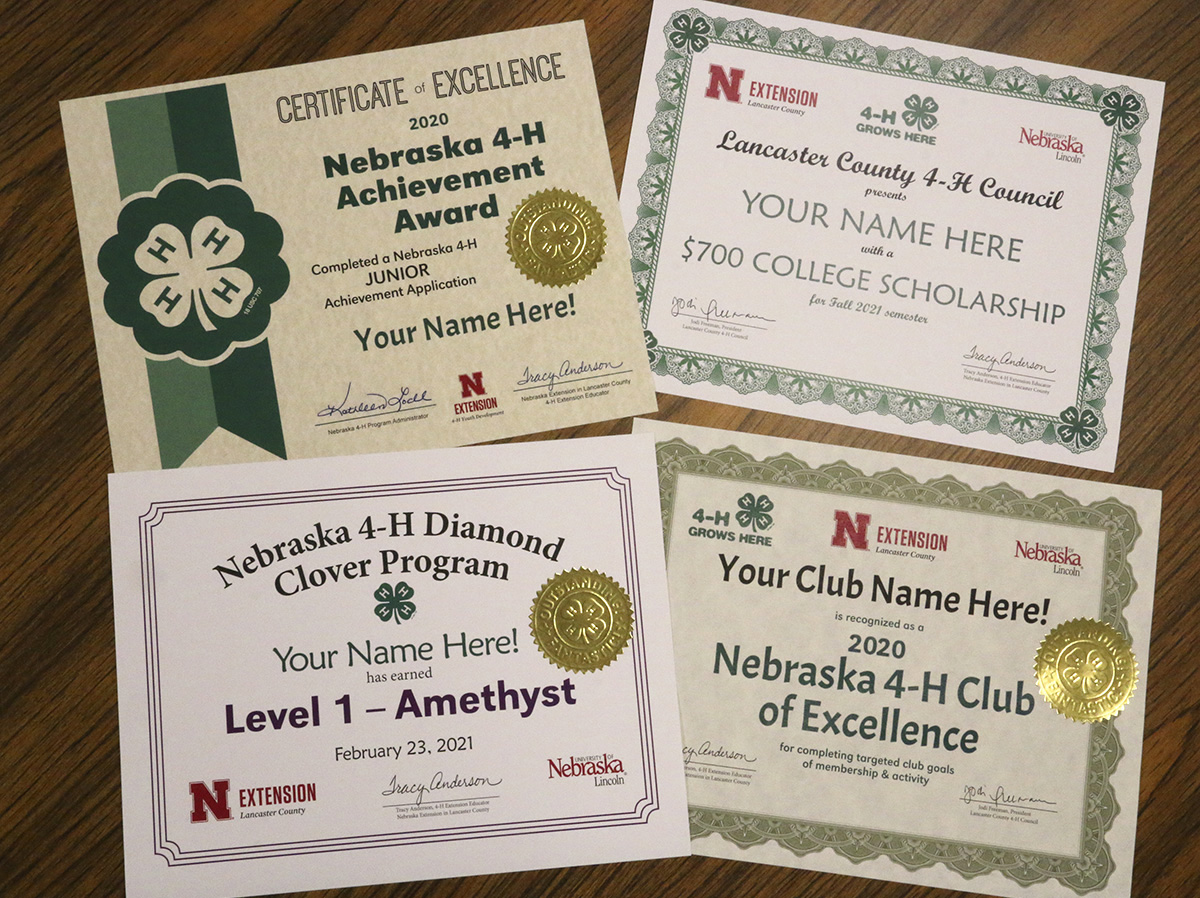 Lancaster County 4-H award forms and college scholarship applications are due Dec. 31. Recipients will be announced at Lancaster County Achievement Celebration on Tuesday, Feb. 23, 2021. Forms are available at http://go.unl.edu/4has and the Extension office. If you have questions, contact Heather at heather.odoski@unl.edu or 402-441-7180.

Families and club leaders are encouraged to submit photos related to award application accomplishments to kpulec3@unl.edu by Dec. 31. These photos may be used in the Year in Review video and multimedia presentation at Achievement Celebration.


AWARDS
Community Service Awards — based on number of hours of community service through 4-H.

National Leadership Award — recognizes youth ages 15–18 who strive to be their personal best.

Outstanding 4-H Member Award — an individual 14 years of age or older who has excelled in their involvement with the 4-H program.

Meritorious Service Award — individual or organization who has strongly supported 4-H.

Nebraska 4-H Achievement Application — this new form may be used as a record of 4-H activities. There are two versions, junior for ages 8–14 (county only) and senior for ages 15–18 (county and state).

Nebraska 4-H Diamond Clover Program — recognizes the accomplishments of 4-H'ers ages 8–18, youth can progress from Level 1–6.

Nebraska 4-H Gives Back — a 4-H member or team completes a major service-learning project (over 100 hours of service).

Nebraska 4-H Club of Excellence — meet criteria outlined by the state 4-H office.


COLLEGE SCHOLARSHIPS
For graduating high school seniors enrolled in the Lancaster County 4-H program.

4-H Council — up to twelve $700 scholarships.

4-H Teen Council — two $300 scholarships.

Lincoln Center Kiwanis — one $1,000 scholarship.

Dick Fleming Leadership & Communication Scholarship — one $250 scholarship to a 4-H'er who has excelled in leadership and communication through 4-H.

Lane Community 4-H Scholarship — one $200 scholarship to a 4-H'er attending Raymond Central High School.

Nebraska Association of Fair Managers Martha & Don Romeo Scholarship — two $500 scholarships to Nebraska 4-H'ers. Note: Deadline is Dec. 1.

Nebraska 4-H Foundation Scholarships — Information is posted at https://www.ne4hfoundation.org/scholarships. To apply for scholarships, 4-H'ers must submit the Nebraska 4-H Achievement Application for state-level review by Jan. 15.