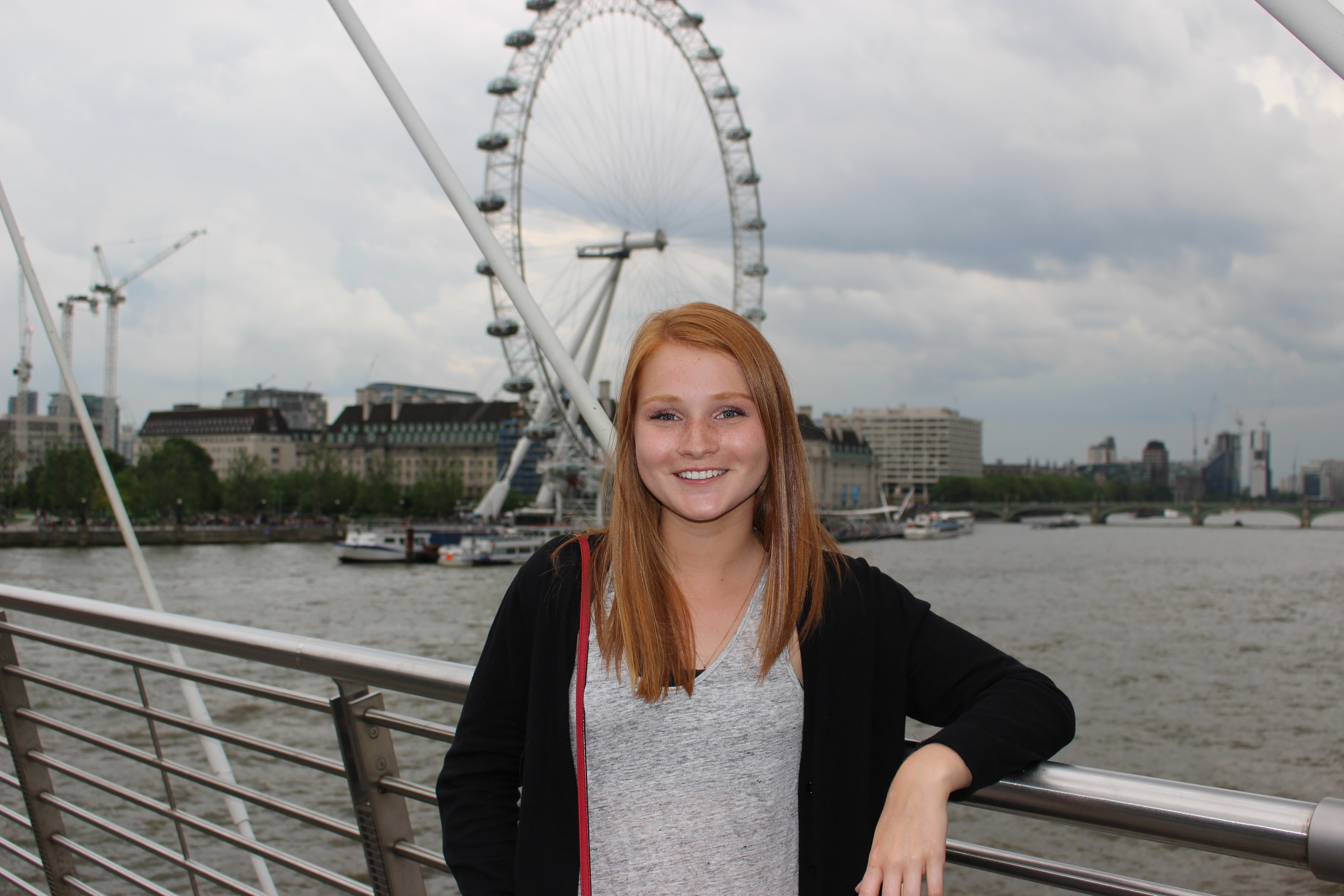 Name: Emma Himes
Major/Minor: Global Studies, English, & Spanish
Minors: Latin American Studies, History, & Digital Humanities
Hometown: Born in Lincoln, NE, Raised in Omaha, NE
Year at UNL: Junior

Favorite book and why: All The Pretty Horses by Cormac McCarthy - Cormac writes novels of poetry. Often so vague in the beginning that it is hard to decipher which character is doing a specific action. When I sit down with one of his books, it begins like a riddle. Eventually, the story unfolds, and there is clarity. Additionally, the way he describes horses, the earth, and human interaction is like no author I have read.

Favorite dish/food and why: Lomo Saltado! I am currently living in Buenos Aires, Argentina, and my host mother's cooking is influenced largely by her Peruvian family. She cooks me Lomo Saltado weekly, and it is one of the most flavorful dishes I have experienced.

Why Global Studies? I am a Global Studies major because my academic interests are stretched between disciplines. Global Studies allows me the flexibly to study a wide variety of subjects from Languages to International Relations to Culture & Literature. Additionally, I have received credit towards the major while studying in Spain, England, and Argentina. My favorite classes within the Global Studies major have been on my journeys abroad. This summer, I studied the Transatlantic Slave Trade in Bristol, England with the Fulbright Commission. The month long seminar included content in the disciplines Archaeology, Anthropology, History, Human Rights & Humanitarian Affairs, Geography, Philosophy and Literature. The amazing institute allowed me to view the Slave Trade in Bristol from every different perspective. Currently, I am living in Buenos Aires, Argentina as an exchange student, and I am studying Human Rights, Gender & Sexuality in the context of Argentine Society. The Global Studies major has been extremely supportive of my travels and academic interests. My best advice to anyone new to the Global Studies major is wait to specialize. Look at your degree audit often, and take advantage of the flexibility it allows. Study what interests you, but also plan well to make sure you will graduate on time!

What are you post-graduation plans? Following graduation, I will apply for national fellowships and attend graduate school. I am still unsure of what degree I will pursue, but something that allows me to work in the humanities, education, and public policy whether with a NGOs or the government. I am very interested in the field of Digital Humanities and the opportunities to bring access to educational materials.

Experience with US-UK Fulbright Summer Institute:
My Fulbright summer institute in Bristol was an interdisciplinary experience. In one day, I would have a lecture in Archaeology in the morning and then conclude the afternoon with a Philosophy lecture. As an English, Spanish, and Global Studies major, it is not uncommon to switch between topics regularly. I visited special collections in the Bristol City Archives and the University of Bristol Archives. I was required to find a documents from the 18th and 19th centuries and create a presentation that was related to my studies at my home university and to the theme of my summer institute, the transatlantic slave trade. There were also opportunities to travel to a castle for an archaeological dig, visit museums in London, and travel through Plymouth, Exeter, and Devon. There were ten students on the program together from all over the United States, and after spending everyday together, they have become close friends of mine. The Summer Institute confirmed my love of learning and immersing myself into new cultures and places. Bristol has since become one of my favorite cities in the world, and I would be honored to return to Bristol to continue my studies in the future.

About the Fulbright Summer Institutes for US Undergraduates:
The US-UK Fulbright Commission offers special Summer Institutes for US citizens to come to the UK. These summer programmes provide the opportunity for US undergraduates (aged over 18), with at least two years of undergraduate study left to complete, to come to the UK on a three, four, five or six week academic and cultural summer programme.

Participants in these programmes will get the opportunity to experience an exciting academic programme at a highly regarded UK University, explore the culture, heritage and history of the UK and develop their academic ability by improving presentation, research and communication skills.
**If you wish to apply for this opportunity please email Emira Ibrahimpasic at eibrahimpasic3@unl.edu for help with the application process.
More details at: http://www.fulbright.org.uk/fulbright-awards/exchanges-to-the-uk/undergraduates