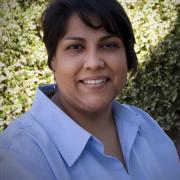 In increasing numbers, 21st century college students have been entering higher education from decidedly diverse personal or social backgrounds and levels of preparedness. These students face the added pressure of an uncertain economic future. In an effort to address these considerations and to help students matriculate and graduate, advisers and higher education professionals have adapted practices and theories that focus on "resiliency."

On Feb. 21, the University of Nebraska Academic Advising Association will host a conference dedicated to this concept of resiliency. The 2017 theme, "Guiding College Students on their Journey: Navigating Obstacles and Building Resiliency," is intended to inspire and motivate the advisers and student affairs personnel from 10 institutions in Nebraska to think critically about how the discourse of "resiliency" impacts 21st century college students on our campuses.

Dr. Laura K. Muñoz, the Joe B. Frantz Associate Professor of History at Texas A&M University-Corpus Christi and former National Academy of Education/Spencer Postdoctoral Fellow, will present the keynote address: "Building Resilience as a Cultural Sustaining Pedagogy in Academic Advising."

Muñoz has published essays on the history of Mexican American school desegregation and on re-conceptualizing the American history survey for high school and college students. Her interest in student advocacy stems from her own childhood experiences.

As a child, Muñoz attended five public elementary schools as a result of the busing desegregation plan that emerged from the federal lawsuit Cisneros v. Corpus Christi Independent School District (1970).

After earning her doctorate from Arizona State University in 2006, she returned to her hometown university — a Hispanic-Serving Institution — where she teaches extensively in the First-Year Learning Communities Program and where she specializes in working with first-generation, low-income, non-traditional and transfer students.

Muñoz has advised students formally and informally across the university at all levels, including honors students and McNair Scholars. She also previously directed the history masters program, advising students from application to graduation.

In 2016, she won the TAMUCC College of Liberal Arts "Excellence in Teaching" Award for her commitment to student success.
More details at: http://aaa.unl.edu/2017Conference