This Week, May 20 - 24, 2013
Lied's NEA grant to support interdisciplinary dance exploration
The Lied Center for Performing Arts at the University of Nebraska-Lincoln has been awarded a $20,000 grant from the National Endowment for the Arts for its upcoming project with the groundbreaking dance company, Streb.
The Lied Center and its partners will present an interdisciplinary exploration with Streb in spring 2014. The project will involve UNL students from dance, theatre, gymnastics, architecture, and computer science and engineering, along with local K-12 students, teachers and community members. Streb company members will lead three days of residency activities in Lincoln, culminating in a public performance of "Forces" at the Lied Center. UNL dancers and gymnasts, under direction of Streb members, will maximize the legacy of the project by providing student matinees and workshops based on Streb teaching techniques to local schools in spring and fall 2014. Read more about this grant.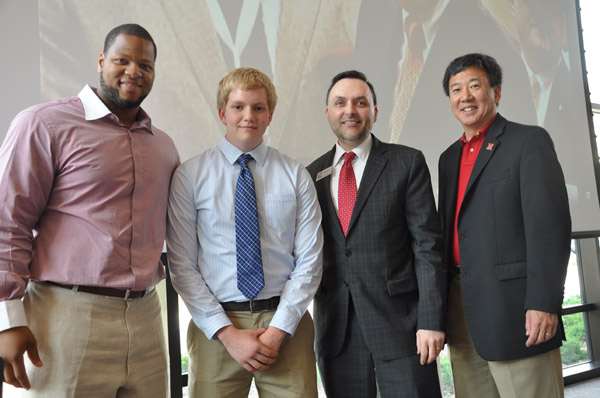 Suh tours College of Engineering with first scholarship recipient
Former Husker and current Detroit Lions standout Ndamukong Suh, a graduate of the UNL College of Engineering, has announced that Matthew Stier of Blair would be the first recipient of the scholarship Suh established with the college in 2010.
The feeling is "awesome," Stier said. He graduated May 19 from Blair High School and will begin studies at UNL this August in the Construction Management program. Suh also majored in construction management during his time at the university. Read more about this scholarship in Today@UNL.
Maxwell Arboretum celebration is Thursday
A celebration of UNL's Maxwell Arboretum is planned for 5:30 p.m. May 23 on East Campus. "Spring in Maxwell Arboretum" is free and open to the public. The event, which includes presentations, tree planting, a picnic dinner and an arboretum tour, will be immediately south of the Dairy Store.
The program includes opening remarks by Ted Hartung, president of the Friends of Maxwell Arboretum; a welcome by Ron Yoder, associate vice chancellor for the Institute of Agriculture and Natural Resources; a presentation, "Trees for a Changing Climate" by Justin Evertson of the Nebraska Forest Service; and an industry response by Luann Finke of Finke Gardens and Nursery. Read more about this celebration in Today@UNL.
Permalink