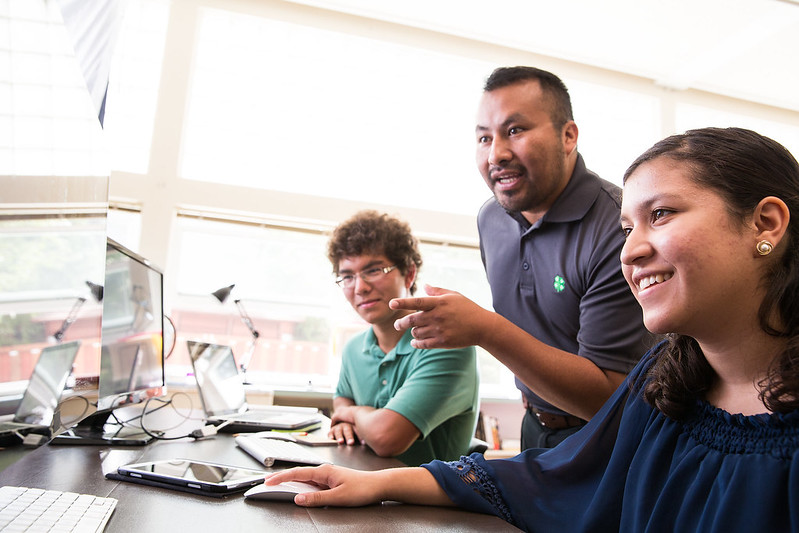 Inequitable access to technology and digital skills is impacting the opportunities for people nationwide. Over 20 million in the U.S., including 151,000 right here in Nebraska, lack high-speed internet access, and many more don't have the skills needed to take full advantage of online resources. The combination of inadequate internet access and limited digital skills has created a digital divide, impacting future opportunities for young people and adults.

According to a 2021 survey, 63% of teens credit digital skills and broadband access to economic prosperity in their communities. The 4-H Tech Changemakers program trains and equips teens to bring digital skills trainings to their communities. Through the program these young people are helping their communities thrive by advocating for increased digital inclusion and providing access to in-demand digital skills.

4-H Tech Changemakers empowers young people to close the country's widening digital divide and provide an #Opportunity4All by offering education and tools they need to teach digital employability skills. With support from Verizon, Microsoft, Tractor Supply Company, and Land O'Lakes, 4-H teens are educating adults in their community about online job seeking, social media marketing, software use, and more. This program is made possible by funding through grants in a partnership between these donors and National 4-H Council.

This looks different in each community – teens are empowered to research what skills would be most beneficial to adults in their community. This ranges from internet safety to workforce development skills to digital marketing tools. Digital literacy can play a powerful role in helping people connect, learn, engage with their community, and create more promising futures.

The program serves more than 50,000 adults across 164 communities in 18 states nationwide, with a focus on rural communities and communities of color. Here in Nebraska, we have nearly 30 Tech Changemaker youth starting programs in 11 counties - Box Butte, Dawes, Sheridan, Sioux, Scotts Bluff, Butler, Seward, Gage, Jefferson, Lancaster, and Cass. Many will kickoff programming during the upcoming nationwide Digital Learning Day on February 22nd.

In addition, Caroline Slama, was one of five 4-H'ers across the country selected to serve as an ambassador for the 4-H Tech Changemakers program. "She and her fellow team members will spend the next year teaching digital skills in their local communities while advocating for digital equity and skills education across the country as part of the national 4-H program," says National 4-H Council Public Relations Manager Julia Majors. Slama and Nebraska 4-H Career & College Readiness Educator, Dr. Dawn Lindsley (statewide Tech Changemakers program leader), recently spoke about the Tech Changemakers program on Nebraska Public Media's broadcast, Consider This… with Cathy Wyatt.

4-H is America's largest youth development organization—empowering nearly six million young people with the skills to lead for a lifetime. 4-H programs use hands-on learning to teach youth about a variety of topic areas including college & career success, healthy living, civic engagement, leadership development, agricultural literacy, STEM, and more.
More details at: https://4-h.org/ways-to-give/corporate-foundation-support/tech-changemakers/