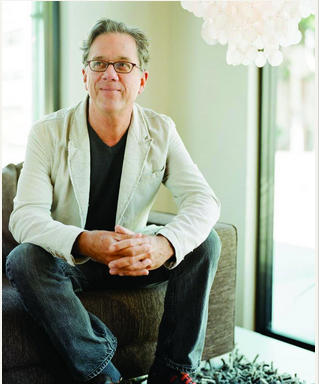 Designer and Entrepreneur Rob Forbes will present the next lecture of the Hixson-Lied Visiting Artists & Scholars Lecture Series on Thursday, March 9 at 5:30 p.m. in Richards Hall Rm. 15. The lecture is free and open to the public.

The School of Art, Art History & Design's Hixson-Lied Visiting Artist & Scholar Lecture Series brings notable artists, scholars and designers to UNL each semester to enhance the education of students.

Forbes has been a ceramic artist, professor, author, publisher, photographer and business entrepreneur. He has held executive positions at numerous retail companies, but is best known as the founder of Design Within Reach (1998) and PUBLIC Bikes (2010).

Design Within Reach, which marketed European modern furnishings to American buyers, pioneered many changes that have become mainstream today: internet retailing of modern design, design blogging, transparent pricing and a focus on the designers themselves.

PUBLIC Bikes, an online bike retailer, is a similar business model with a mission to bring design awareness to our public urban spaces and to our civic lives.

Forbes has received numerous awards and public recognition for his advocacy of art, design and urbanism and serves on several boards in the non-profit sector.

He recently authored "See for Yourself," published by Chronicle Books, a visual study and search for beauty in our everyday world.

Less known is his background as a potter, ceramic designer and professor of art. He graduated from Alfred University in New York with an M.F.A. in ceramics and has a significant resume as an exhibiting artist, as well as a background teaching at the Philadelphia College of Art.

Underwritten by the Hixson-Lied Endowment with additional support from other sources, the series enriches the culture of the state by providing a way for Nebraskans to interact with luminaries in the fields of art, art history and design. Each visiting artist or scholar spends one to three days on campus to meet with classes, participate in critiques and give demonstrations. Every visiting artist or scholar gives at least one major lecture that is free and open to the public.

The remaining lectures in the series this spring include:

• Forensic Archaeologist Caroline Sturdy Colls on April 3 at 7:30 p.m. Colls is an Associate Professor of Forensic Archaeology and Genocide Investigation at Staffordshire University. She is also the Research Lead of the Centre of Archaeology at the same institution.

• Graphic Designer Ellen Lupton on April 6 at 5:30 p.m. Lupton is a writer, curator, educator and designer. She is the senior curator of contemporary design at Cooper Hewitt, Smithsonian Design Museum in New York City.

• Sculptor David Lobdell on April 13 at 5:30 p.m. Lobdell is Professor of Fine Art and Chair of the Visual and Performing Arts at New Mexico Highlands University.

• Photographer Lawrence McFarland on April 20 at 5:30 p.m. McFarland, who received his M.F.A. from the University of Nebraska–Lincoln in 1976, is professor emeritus from the University of Texas at Austin, where he taught from 1985 until 2013. He was awarded the first William and Bettye Nowlin Endowed Professorship in Photography in 2003.

For more information on the series, contact the School of Art, Art History & Design at (402) 472-5522.