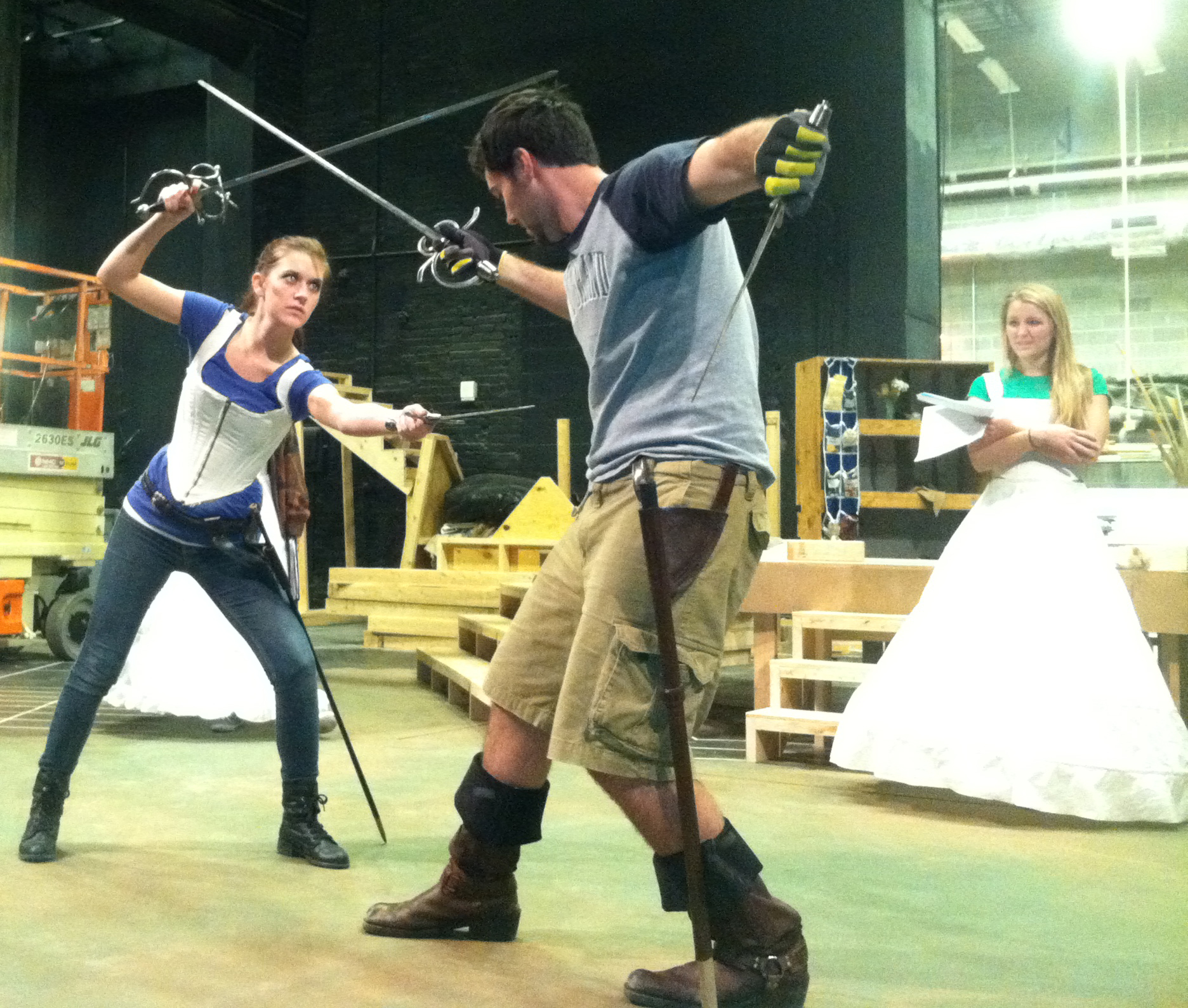 University Theatre opens its season Oct. 4 with "Agravio," by Assistant Professor of Theatre Ian Borden and Amy Williamsen. The play is adapted from Ana Caro's "Valor, agravio y mujer."

Caro is possibly one of the first professional female playwrights to ever have her work performed.

"Normally that's attributed to Aphra Behn, considered the first professional female playwright and an English playwright from 1670 through the 1680s," Borden said. "But this would have been 1637-1650. Caro died in 1650, and it was probably written after 1637, but they don't actually have a date to know exactly when it was performed."

Borden discovered the piece at an American Society for Theatre Research Conference, where he met Amy Williamsen, head of the Department of Languages, Literatures and Cultures at the University of North Carolina-Greensboro, who is the original translator and co-adaptor of the play.

"She told me about it, and I said, 'What? A play with a woman dressing up as a man and fighting with a sword? I like those,'" Borden said.

The play comes from near the end of the Spanish Golden Age, a period of flourishing in arts and literature in Spain. The lead character, Leonora, vows to get revenge and win back legendary lover Don Juan's heart on the point of her blade.

"Historically, it's really interesting because it was written by a woman within a society that was extraordinarily patriarchal," Borden said. "It has female characters who have decidedly what would have been considered masculine characteristics. The character Leonora is recognized for being motivated by reason rather than emotion for the actions she takes. Leonora also fights with a sword, understands fencing concepts and is very successful against the men in the play. Other female characters are able to outmaneuver the male characters politically and monetarily."

Kayla Klammer, a theatre performance major from Ainsworth, Neb., plays Leonora in "Agravio."

"Leonora is an extremely determined person, and once she sets out to do something, she goes full force," Klammer said. "She may get emotional now and again along the way, but her faithful servant and friend, Flora, is always there to keep her on track."

David Michael Fox, a theatre performance and pre-med major from Nebraska City, Neb., plays legendary lover Don Juan.

"'Agravio' is a play about love triangles, honor and revenge, with a bit of action mixed in," Fox said. "I play the role of Don Juan, you know, the greatest lover of all time. In the play Don Juan was once in love with a woman named Leonora and pledged to be her husband, but Don Juan was forced to leave her. Now Leonora wants revenge on Don Juan and dresses as a man, changing her name to Leonardo, to seek out Don Juan and kill him for leaving her. Don Juan stumbles across a Condesa named Estella and after saving her life he falls madly in love with her. But she ends up falling in love with Leonardo (who is a woman). As the play goes on, things only get more hectic and confusing for the characters, as the love triangles change and secrets become public knowledge, the characters use their swords to settle their disputes."

Fox said the play is a challenge for the actors.

"It is a challenge to take a script with such high stakes for the characters—a lot of this play is life or death for the characters. You cannot get any more dramatic than that," he said. "But the challenge is finding a place between fake and ridiculously overdone to make it realistic enough for the audience to forget they are watching a play and give in to the storyline. Also the language of the play is very period stylistic, not quite as much as Shakespeare, but definitely now how we talk today, so the most challenging part is trying to get the language to flow smoothly and realistically."

Klammer has enjoyed working on "Agravio."

"I love that 'Agravio' has both comedic and dramatic elements within the storyline," she said. "It's been a lot of fun working on a sort of 'play in progress.' The director has adapted this show, so we get to make all sorts of changes to lines while we re in the rehearsal process. That has been both great and a little bit of a challenge, as far as memorizing is concerned."

Fox has enjoyed working with Borden on the play.

"Ian is great to work with and has a great deal of knowledge about this time period and fighting styles of the time period," Fox said. "He is extremely knowledgeable and knows what he wants."

Klammer agrees.

"I never know what to expect when I'm working with Ian, but the one thing I do know is that it will definitely be entertaining," she said. "There's always fun to be had in rehearsal, as well as the experience to learn how to become a better actress and how to play and grow as a character. It's been a rewarding experience, so far, to take these words that Ian wrote on a page and turn them into a real, live story."

Borden has enjoyed his work on this newest adaptation of the piece. He has received input from the Association for Hispanic Classical Theatre, which has discussed certain changes in the adaptation with him.

"They're putting their two cents in," he said. "'Well, what about this. . . . And if you take this word out and translate it this way, you're changing the meaning here.' And I'll say, 'Yes, I know I'm changing the meaning, but I'm going to do that from the action and make this work for an English speaking audience.' It was a fun thing to find that balance between historically what this play meant and at the same time, bring it forward so that the modern audience can really enjoy it and have fun at the theatre and still get a lot of what was talked about within the original context," he said.

Borden is himself an actor, director, scholar and Certified Teacher of stage combat with the Society of American Fight Directors. His scholarship ranges from ancient Greek and Renaissance theatre to modern theories of performance. He has an MFA from the University of Missouri-Kansas City and a Ph.D. in Theatre Studies from Florida State University.

His father, Dr. John Borden of Contech, Inc., is an entomologist and former professor at Simon Fraser University in Vancouver, B.C. He will be speaking at UNL on Nov. 30 in an entomology class in the College of Agricultural Sciences and Natural Resources.

Though his father was a bug professor, it was a different bug that caught Borden's attention: the theatre bug.

"I was staying away from sciences," Borden said. "But there's a picture of my grandfather at UCLA in a very bad Prince Valiant wig and a very ill-fitting set of hose from some terrible production that was going on there, so obviously the theatre bug lives in the family somewhere."

He loves the energy created by theatre.

"I love it when what's on stage really energizes the audience and, in turn, that energizes the actors," he said. "So you get this wonderful loop of energy that is satisfying in a way that movies and TV just can't be."

Performances of "Agravio" are at 7:30 p.m. Oct. 4-6 and 10-13 and 2 p.m. on Oct. 14 in Howell Theatre. Tickets are $16 general, $14 faculty/staff and senior citizens and $10 students with identification. Tickets are available through the Lied Center Box Office at (800) 432-3231 or online at http://unltheatretickets.universitytickets.com/.

"Come out and have a good time," Borden said.