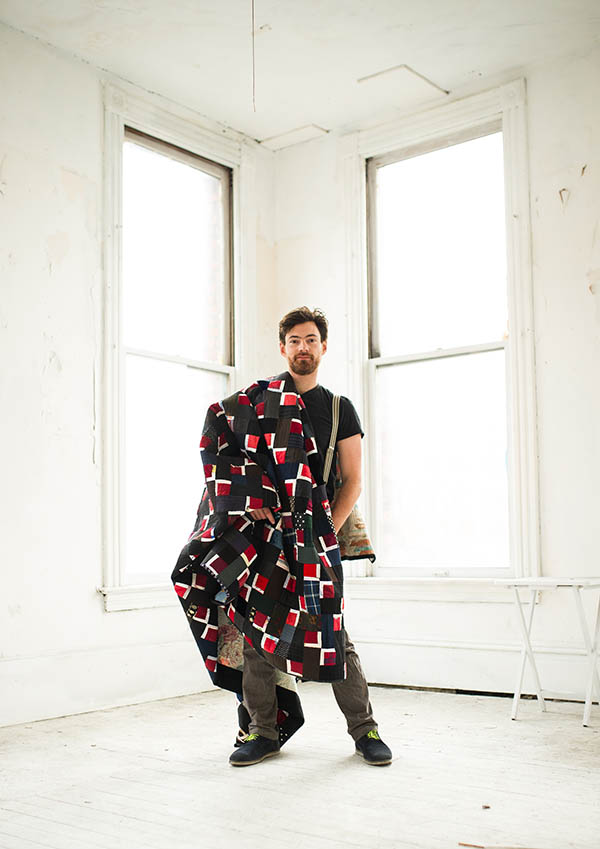 The artist behind "Log Cabins by Luke Haynes" will give a free lecture at the International Quilt Study Center & Museum on Friday.

Artist and architect Luke Haynes will discuss his collection of 50 log cabin quilt variations on March 3 at 5:30 p.m. The exhibition is now showing at Quilt House, 1523 N. 33rd St.

Haynes found inspiration from the minimalist artist Donald Judd's work, "100 untitled works in mill aluminum, 1982-1986," which is installed in two former Army artillery sheds in Marfa, Texas. Each of Judd's works is made of the same material in the same outer dimensions, but each has a unique interior. Likewise, Haynes created 50 Log Cabin quilts that all share the same materials and size, but each has a unique graphic arrangement.

Haynes's minimal palette of black and white, with points of red, sharply articulates the graphic variations. By using repurposed clothing and household fabric, he textured the quilts with the inherent evidence of those who once used the cloth. To counter prejudices against quilts, Haynes conceived his work as what he calls "inhabitable sculpture."

While in Lincoln, Haynes will also lead a workshop on Saturday, March 4, from 9 a.m. to 4 p.m. Cost is $100 or $85 for museum members. Call 402-472-6549 for more information or to reserve a spot in this class.

Haynes received his formal training in art and architecture at Cooper Union, New York. His quilts are in private collections as well as the Brooklyn Museum, the International Quilt Study Center & Museum and the Norton Collection.

In conjunction with First Friday, the IQSCM will offer free admission to the galleries and refreshments from 4:30-7 p.m. on March 3. In addition to "Log Cabins by Luke Haynes" other exhibits now showing include the "8th Annual UNL Employee & Retiree Quilt Show," "Threads of Nebraska Quiltmaking," "Quilt Japan" and "Quiltscapes by Pauline Burbidge."

For more information on these exhibitions and other programming, visit http://www.quiltstudy.org.
More details at: http://www.quiltstudy.org