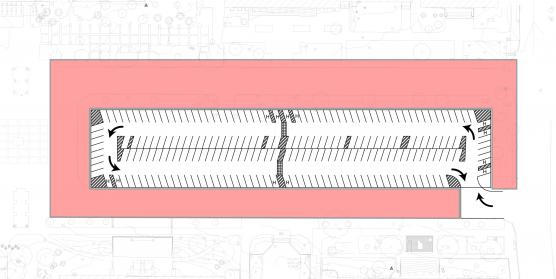 Due to construction on the Memorial Loop Road on City Campus that begins Dec. 26, the reserved CEHS parking spots, at 14th & Vine streets, are being moved to the parking area immediately behind Henzlik Hall. These reserved parking spots require a special hang tag that can be checked out by CEHS faculty and staff on East Campus who are visiting City Campus.

Construction will also close Area A parking around the loop and will remain closed until August. The project, announced in September, is a renovation to upgrade the brick roadway, reconfigure parking, increase pedestrian safety and add sustainability measures. Project details are available at https://go.unl.edu/2qt3.

During construction, access to the reserved Area F03/D01, museum visitor, East Stadium Lab and psychological counseling spaces will be available via the southeast corner of Memorial Loop Road. Vehicular circulation during construction will be one-way, counterclockwise. (See graphic.)

Faculty and staff who currently park in Area A around the loop can use any other Area A designated surface lot on campus. Parking spaces are generally available in the lot next to the Champions Club, west of Memorial Stadium, and at the Boathouse lot near 16th and X streets. A map of Area A parking lots on City Campus is available at https://go.unl.edu/8qab.

Permit holders can also upgrade to permits for garages at 17th and R, 14th and Avery, and Stadium Drive. To convert a permit, contact Parking and Transit Services at 402-472-1800.