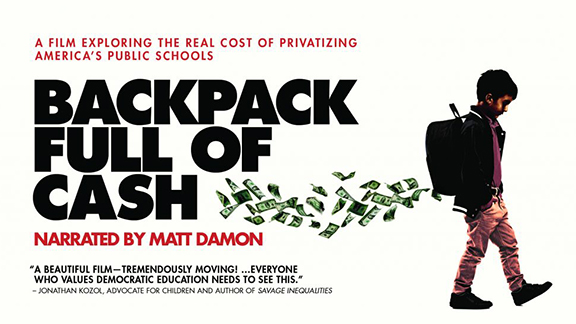 The College of Education and Human Sciences is inviting all CEHS faculty, staff and graduate students to attend a series of film screenings to explore K-12 educational equity, the expanding privatization of public schools, and to discuss the college's role. The first film, "Backpack Full of Cash," will be shown at 12:30 p.m. Friday, Feb. 2 in Teachers College Hall Room 105. Registration is required for lunch.

Backpack Full of Cash, narrated by Matt Damon, explores the growing privatization of public schools and the resulting impact on America's most vulnerable children. The film examines the world of corporate-driven education reform that leaves public education "starved for resources."

Following the film, a faculty member from the Department of Teaching, Learning and Teacher Education will facilitate an open discussion about the film and implications for the college and for Nebraska.

Lunch will be provided, so be looking for an email invitation and registration link from Jenny Day next week.

A screening and discussion of the film "Waiting for Superman" will be held at 12:30 p.m., March 2 in TEAC 105. A separate announcement and invitation will be sent for that event at a later date.