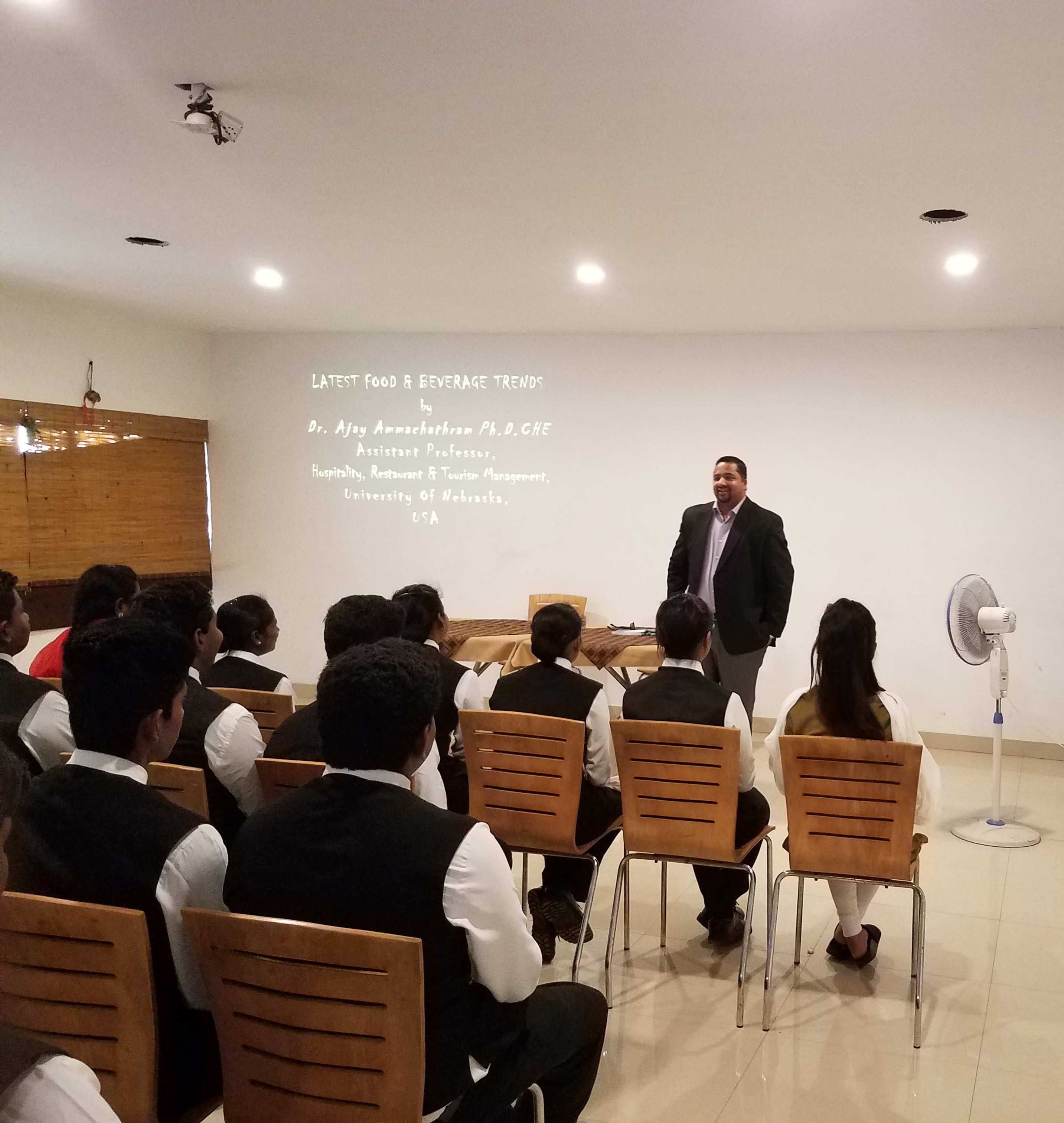 Ajai Ammachathram, Assistant Professor and Food and Beverage Management Extension Specialist from Hospitality, Restaurant and Tourism Management program presented on "Latest Food and Beverage Trends in the Hotel Industry" on July 11, 2018 at Asan Memorial College, Chennai, Tamil Nadu, India. An interactive session on several topics around food and beverage management was presented to the audience. Topics such as latest beverage trends, menu management, food as entertainment, food and social media, multi-cuisine establishments, boarding and lodging packages, food waste, plant-based menus, educated consumers, farm-to-table diets, modern food service equipment's were addressed.

Dr. Milton Thangasamy, Head of the Department & Associate Professor, Hotel & Catering Management, Asan Memorial College of Arts & Science, Chennai hosted the event and over eighty students from the B.Sc. Hotel & Catering Management program attended the presentation. Dr. Thangasamy elaborated that "the session was extremely informative and the participation of the students illustrated Ajai's expertise in the field. The positive responses of the students reflected the efforts taken by Ajai to educate them which was really commendable. He concluded his note by mentioning that Ajai's novel way of teaching students was very impressive."

Asan Memorial College of Arts & Science was established in 1994. It is a NAAC Re-Accredited educational Institution of repute which offers courses in Arts, Science, Commerce, Business Administration and Hotel Management. The College was formally inaugurated by his Excellency K.R.Narayanan, the Honourable Vice President of India in December 1994 in the presence of his Excellency Mr.Vakkom Purushothaman, the Lt. Governor of Andaman and Nicobar.

The three-year B.Sc Hotel & Catering Management course offered by the college is as per the scheme and syllabus of University of Madras, updated periodically to meet the industry expectations and requirements. In order to supplement the core program, several courses on personality development, communication skills besides specialized training on technical skills are imparted with assistance of external consultants and resource persons. The hotel & catering management department has been provided with all the infrastructural facilities and equipment's to conduct top class professional hotel management course.

The department is headed by Dr. Milton Thangasamy who is assisted by a team of highly motivated and competent faculty having a good blend of experience in hospitality industry and academics .The department conducts various collaborative activities such as National seminar, Mega food Festivals, Workshops in flower arrangement, Guest lectures, chef competitions, Industrial visits ,sweet demonstration, cocktail, Tandoori, vegetable carving, quiz competitions, Interview preparatory workshop and theme luncheons to hone the technical skills of the students to mold them all round personality. These activities provide them an excellent opportunity to be exposed to a corporate hotel luminary and to get their guidance for their future.

Apart from these students are encouraged to do special week and Training, outdoor catering parties in various hotels to get hands on training in hotel management skills. Our students are encouraged to be the member of professional associations such as Chennai young skal club (Hotel & Tourism students club) and young chef in SICA (South Indian Culinary Association) which conducts more activities and give them more confidence to gain employment.

Over the years the Hotel & Catering management has established an excellent reputation for the academic performance and for the competence, quality and professionalism of its products which have been well appreciated by the Hospitality industry. The cherished goal of this College is to equip its students with the knowledge and skills in respective subject areas along with the right attitude, good character and true sense of human values. In addition to imparting value based education with the ability to face the challenges of life, the college endeavors to conserve the rich traditions and culture of India, by nurturing in them a sound sense of respect for Indian heritage.

Today the Asan Group of Academic Institutions is marching towards 50 years in the field of academics and teaching, providing a rapidly evolving global environment with the promising work force and entrepreneurs by transforming, teaching & training aspiring students to be responsible contributors to their communities and beyond.
More details at: http://www.amcas.in/academicsbhm.html?utm_campaign=UNL_ENews&utm_medium=email&utm_source=news&utm_content=Ajai Ammachathram presents on Latest Food and Beverage Trends in Hotel Industry.