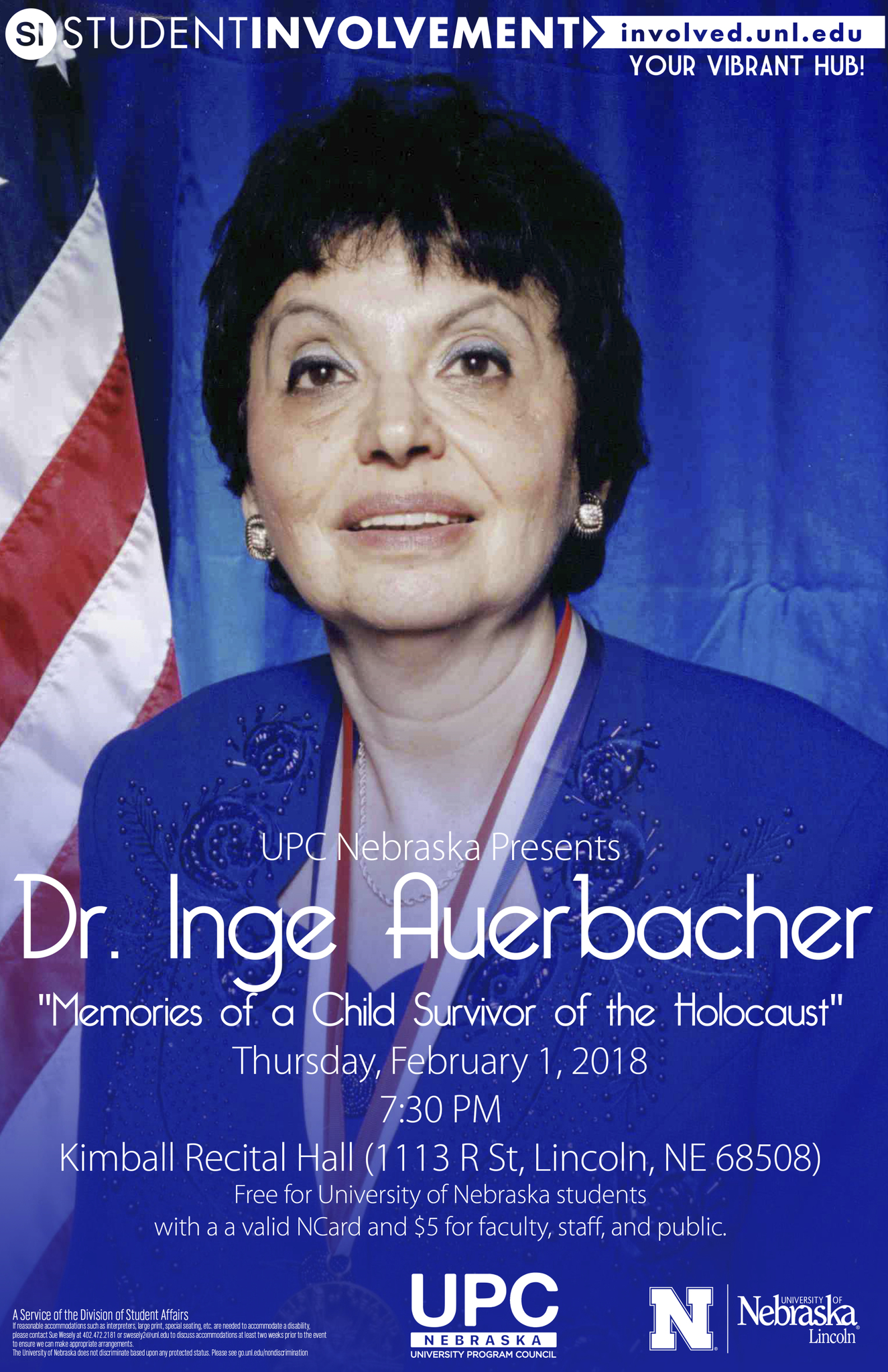 She was the last Jewish child born in Kippenheim, a village in South-Western Germany located at the foot of the Black Forest, close to the borders of France and Switzerland. While attending a Jewish school, she was forced to wear a yellow Star of David. At six years old and after six months in school, the transport "East" began. Inge and her family were sent to Riga in Latvia, where death by shooting awaited them. Inga and her parents were then deported to Terezin concentration camp in August 1942. She remembers the nightmare life she endured while there, feelings of death, fear, and hunger. She recalls seeing most of her friends being sent to the gas chamber in Auschwitz. Between 1941-1945, a total of 140,000 people were shipped to Terezin; 88,000 were sent primarily to the gas chambers in Auschwitz, and 35,000 died of malnutrition and disease in Terezin. Of the 15,000 children imprisoned in Terezin, Inge and her parents are among the one percent that survived. They traveled to America in May 1946 when Inge was stricken with a deadly disease caused by years of malnutrition in the concentration camp. She was hospitalized for two years, and fought a valiant battle for many years to regain her strength. Although she had lost many years of schooling she graduated with honors from Bushwick High School in Brooklyn, New York after only three years in 1953. She completed a college degree (BS in Chemistry) in 1958, and continued with post-graduate work in Biochemistry. Inge worked for over 38 years as a chemist with prominent scientists in research and clinical work.

Inge's hobby is writing. More than 50 of her poems and numerous articles have been published. She was silent about her war experiences until 1981, when she wrote the lyrics "We Shall Never Forget." The music was written by her Christian friend, Rosalie Commentucci-O'Hara. This was the only original song presented at the first "World Gathering of Jewish Holocaust Survivors" in Jerusalem in 1981. More of her lyrics have been set to music by James Donenfeld, Barney Bragin and Cantor Sol Zim. Some have been recorded.

Inge has been lecturing on the Holocaust since 1981, and has spoken to thousands of people in the USA, Canada and Germany. She is fluent in German and English. Her audiences consist of school children, college students and adults of any ethnic background. She has appeared on many radio and television programs both in the USA and abroad. Prize-winning documentary films have been made about her, which have been shown in the USA and all over the world.

Join us in attendance at this important presentation on Thursday, February 1, 2018, at 7:30 PM in Kimball Recital Hall. The event is free for University of Nebraska students with a valid NCard and $5 for faculty, staff, and public.