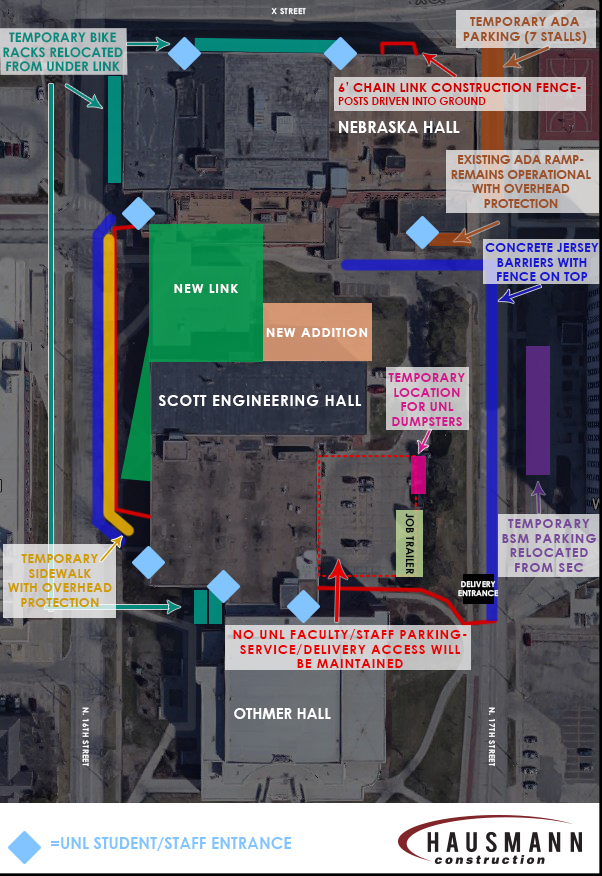 Work began Friday, Sept. 20 as part of the $75 million renovation of Scott Engineering Center and construction of a new building to replace the Link. Please be aware of the following closings and other details.

• FRIDAY, SEPT. 20 - The Link (connected to Scott Engineering
Center and Nebraska Hall) was closed for demolition.

• MONDAY, SEPT. 23 - A temporary sidewalk on 16th street with
overhead protection will be available.

• MONDAY, OCT. 7 - Parking will no longer be available in the east
side lot of SEC. We will be notified when the lot reopens.

• FRIDAY, OCT. 25 - Approximate date when Link demo is
completed

• MONDAY, OCT. 28 - Approximate date for site excavation

NOTE: The bike racks under the Link will be moved to the west and north of sides of Nebraska Hall. Any bikes not removed BEFORE SEPT. 22 will be taken to the UNL Police Station for retrieval.

General tips:

Do not enter the construction site unless your visit has been scheduled and approved by the Construction Manager, Grant Watson (UNL Facilities 472-4807)

Avoid talking to the construction crew on site. This helps avoid any incorrect information getting circulated and causing confusion.

Any concerns related to the construction crew must be brought to the FPC Construction Manager's notice ASAP. Do not try to resolve any conflict by working with the crew onsite.

Look for signage and other communications from the college regarding the construction.
More details at: https://engineering.unl.edu/construction-central/