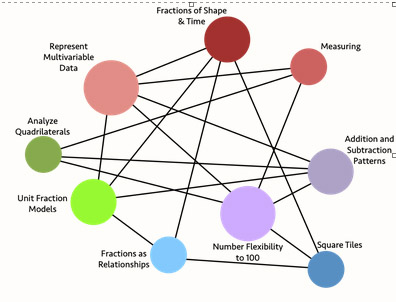 Youcubed, of Stanford, has introduced a new, in-person workshop for elementary teachers that is designed to share the Big Ideas initiative from the state of California.

Big Ideas raise individual standards to a higher level so that students can learn mathematics as a meaningful subject of connected ideas. This approach has been shown by research to engage students and increase achievement. It also helps teachers who are overburdened by long lists of detailed standards—although the same content is covered, there is more time for students to explore ideas and learn deeply. Big Ideas shift our focus from narrow content to open content, which leads to expanded success – for many more students.

The photo attached is an example of a network map illustrating the Big Ideas for Grade 3 and their connections to each other. Here are details about the new workshop, you can click on the dates to read more and register:

Teaching Mathematics through Big Ideas in the Elementary Years
Engaging All Students through Open, In-Depth and Connected Content, March 14-15, 2022 at Stanford University

This workshop will focus on content for Grades 3-5 but will be appropriate for any elementary school teacher. (They plan to offer another workshop in this series, titled "Teaching Mathematics through Big Ideas in the Middle Years," that will focus on Grades 6-8.) Registration for the elementary years session is available now and can be accessed here: https://sto.stanfordtickets.org/youcubed21-22/march2022mathematicsworkshop

If you have questions, you can send a message to pdinfo@youcubed.org.