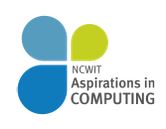 Spread the Word: It's AiC (Aspirations in Computing) Award Application Time!

NCWIT Aspirations in Computing provides a long-term community for female technologists, from K-12 through higher education and beyond, encouraging persistence in computing through continuous engagement and ongoing
encouragement at each pivotal stage of their educational and professional development.

Check it out: http://www.aspirations.org.

It's also application time for the 2016 NCWIT Award for Aspirations in Computing and the 2016 NCWIT Aspirations in Computing Educator Award!

Here's everything you need to know about eligibility, prizes, and deadlines for the Award for AiC and the AiC Educator Award applications:

http://eepurl.com/bxWNbz

This year, UNO and UNL are joining forces to co-coordinate the AiC Award for the Nebraska & SW Iowa affiliate as well. We are planning to hold an award and recognition ceremony in Spring 2016.

Please encourage your students to apply! Please encourage your teachers and administrators to participate/apply!