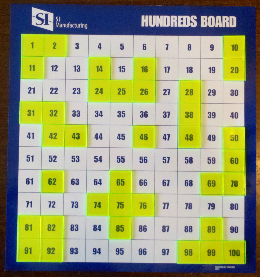 Win a classroom set of A+ Tiles simply by trying your hand at an Illuminations lesson. In the lesson, "Do You Notice Sum-Thing?", students are asked to consider patterns that occur when various tiles are placed on a hundreds board. For a chance to win a full classroom set of the tiles or an individual set of A+ Tiles, try the lesson with some students and then do one of the following:
Submit a picture (or link to a gallery of photos) of students participating in the lesson.
Share a link of student work from the lesson.
Post a link to a video of students participating in the lesson.
Submit a write-up of things your students discovered during the lesson.
Create an extension for the lesson.
Share your picture, video link, or write-up on our Facebook page, "NCTM Illuminations." The link or photo that receives the most "likes" by 5pm ET on Thursday, October 6, will receive a classroom set of hundreds boards provided by A+ Compass. Additionally, 10 other randomly selected entries will win an individual set of A+ Tiles.
Entries should be uploaded to the Facebook page, NCTM Illuminations. Or, you can submit to Christa Koskosky, ckoskosky@nctm.org, who will post any emailed entries to the Facebook page.
Thank you to Art Stoner of A+ Compass for generously donating the prizes for this contest.

Highlighted Lesson: Do You Notice Sum-Thing?
This lesson invites students to investigate the patterns when a "plus sign" (a cross-shaped arrangement of five squares) is placed on the board in various locations. Students will conjecture about the pattern of the five displayed numbers, the sum of the five numbers, and any other patterns that they notice. Students may also explore similar patterns when other shapes, such as a 2 × 1 rectangle, are placed on the hundreds board.
More details at: http://iem.nctm.org/display.php?M=1802890&C=5993d347d8b2fcf69c6466bc125f2ef7&S=1075&L=28&N=1116