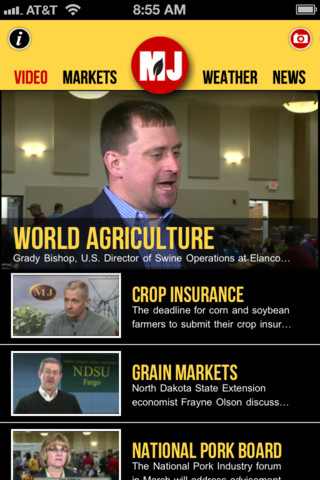 "Market Journal" is now available on iPhones, iPads and Android phones thanks to a new mobile-phone application from the University of Nebraska-Lincoln.

The app lets viewers access clips from the award-winning program, as well as end-of-the-day futures prices, Nebraska daily elevator prices, local weather and agricultural news from several sources. The iPhone and Android versions even allow users to submit their agricultural photos and ask questions of the program's experts, which may be addressed on future programs.

For Apple devices, such as iPhones and iPads, the new app is free and available through iTunes. The Market Journal mobile app is also available though the Google Play mobile app store for Android devices. The tool is free.

"Market Journal," sponsored by the Nebraska Soybean Board and produced by UNL's Educational Media, features current grain/livestock market commentary and analysis; weather, climate, and soil moisture updates; proven marketing and management ideas; risk management strategies; updates on agricultural policy issues; practical advice from seasoned, working producers; opportunities to share information and ideas; and access to the resources of the University of Nebraska-Lincoln Extension.

It airs at 7 a.m. Central Time Saturdays on NET 1 and 9 a.m. Sundays on NET 2. It's also available at marketjournal.unl.edu and through social media sites such as Facebook, Twitter and Youtube. .

More details at: http://go.unl.edu/4dm