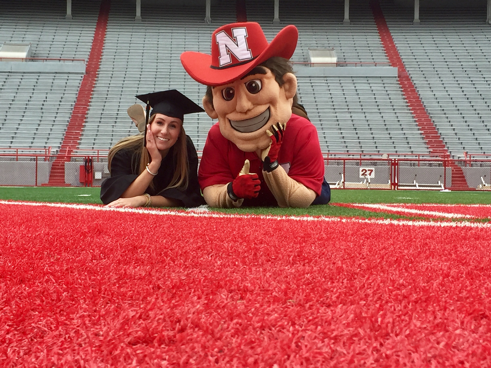 by Lindi Riley, Graduate Student, Integrated Media Communications

Persistency. That's the one thing Abby Akin says landed her a job in the place she's grown up
worshipping from a far.

Akin is a native of Hillsborough, Oregon but after graduating from high school, she knew Nebraska was where she needed to be. Her father was born in the western part of the Nebraska, and many of her fondest memories were summers spent in Broken Bow with her grandparents, cousins, aunts and uncles. While she knew 1,607 miles is a long way from home, especially for an 18-year- old fresh out of high school, she was ready to begin a new chapter in her life.

After four semesters of community college in Oregon, Akin decided she was ready to take the leap and pursue her dreams in Lincoln, leaving the comfort and support of her mother, father and younger brother. She had dreamt about days spent at Memorial Stadium cheering on the Huskers and walking around campus on a beautiful fall day in Lincoln. She was even eager to experience a real Nebraska winter, so she took a leap of faith and left home to pursue her dream.

The adjustment was a challenge at first.

"The transition was hard," Akin says. "I felt lost at first trying to adjust to a new city without my parents close by to comfort me."

Perseverance is what led her to the place she spends more time at than her home in town, Memorial Stadium. After finally finding her niche within the College of Journalism and Mass Communications, Akin attended events and mixers, mingling with classmates and alumni alike.

After listening to Chris Anderson, the associate athletic director for community, governmental
and charitable relations, speak at a college event, Akin then went to a mixer that evening to get to know her better. After weeks and weeks of emailing, Anderson finally called Akin in for an interview to fill one of the two open student-assistant spots she mentioned at the panel.

As Akin sits at her cubicle on the third floor of Memorial Stadium's Tom Osborne Training Complex, she doesn't think twice about the decision she made to leave home three years ago.

"I practically stalked my boss to get this position," Akin said laughing, as she sits in her cubicle.

While she felt she might be irritating at the time, she knew how busy Anderson was, and continued to contact her weekly to remain on her radar.

"It was worth every email," Akin said as she explained the duties and opportunities she has had under Anderson's supervision.

Attending three Nebraska Football Hall of Fame Banquets, the 1997 National Championship team reunion dinner, meeting iconic players like Eric Crouch and Johnny Rodgers, standing on the field for the tunnel walk and attending Husker volleyball and basketball games are all just a few things Akin mentioned that make her job so much fun.

On a daily basis, Akin spends her time doing a variety of tasks like planning out the details of events, keeping track of autographed memorabilia, giving tours of Memorial Stadium to special guests and more.

Akin's daily tasks have evolved, and now include helping to teach another student the ropes of her position. Kyra Willats, a junior advertising major was hired by Anderson a year after Akin.

"I would have been completely lost without Abby's help in the beginning," admits Willats.

Feeling the pressure of the fast-paced job, Willats credits Akin for helping her get adjusted, filling in the gaps when she is confused on a project, and just being a mentor throughout the process.

"It was challenging to start this job right before football season and to keep up with everything,
but Abby was and still is so helpful. It takes some of the pressure off me," said Willats.

After graduating with a Bachelor's of Journalism in advertising and public relations in August, Akin stuck around for football season, not wanting to miss out on any of the action. She is not ready to leave Lincoln just yet, hoping to find herself a more permanent spot with Nebraska Athletics.