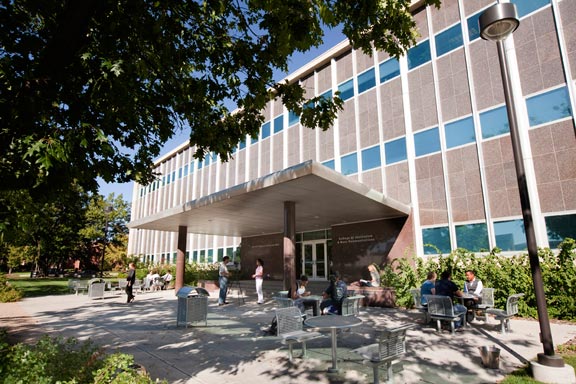 POLS 398 Sec. 002 Special Topics: Science of Election Coverage
This course focuses on improving campaign journalism. Students will apply the fluency they develop in academic research in political science, communications, psychology, and journalism on campaign coverage and campaign effects to their own actual coverage of the 2012 elections. At the end of the spring, you will have the skills to effectively investigate, analyze, and critique media coverage of U.S. elections, apply contemporary campaign issues to historical election patterns, engage in different approaches to election coverage across a variety of news platforms and standards of objectivity, and, above all, produce excellent campaign journalism. Students will use existing political science research about campaign effects, election predictors and elite election strategy to provide better context for coverage. We'll also get down to the ground level—ad-libbing, blogging and handling scandals.

JOUR 491/891 Sec. 001 Special Topics: New Voices
Lincoln is home to growing numbers of refugees and immigrants from around the world: Sudan, Congo, Iraq, Bosnia, Guatemala, Burma, as well as many other countries. In this class students focus on covering the refugee communities, telling stories in text, photo and video. And they will help train refugees to tell stories themselves by meeting with groups of refugees in Community Learning Centers here in Lincoln. All stories are published on nemosaic.org, and some will also be published in the Lincoln Journal Star.

JOUR 491/891 Sec. 006 Special Topics: Business and Economic Reporting
Media organizations are scrambling to hire reporters who can tell readers why the economy is in such a funk. Outfits such as Bloomberg News—which has recently taken on interns from UNL in Chicago and New York—need smart people who can speak the language of business. You will learn that in our one-semester course in business and economic journalism. Whether you plan to specialize or work as a general reporter, this class will give you an edge in the news job market. Advertising and public relations students, too, would find it helpful.

JOUR 491/891 Sec. 004 Special Topics: Nebraska News Service
The Nebraska News Service provides state government news coverage to more than 80 news organizations throughout the state that otherwise would not have ready access to news and information from the state capitol. The spring semester focuses on covering the Legislature, but students will have the opportunity to do a wide variety of government-related stories. Juniors, seniors and graduate students are eligible to apply if they have taken all the JOUR required courses through 302. Submit a resume, list of J-School classes you've taken and the teacher for each one, and work samples to Mary Kay Quinlan, Room 232.

JOUR 491/891 Sec. 951 Special Topics: Democratic National Convention/Charlotte
This class, taught during the last eight weeks of the semester, will prepare students to go to Charlotte during the three-week summer session to cover the impact of an event like a national political convention on a community.

UHON 395 Sec. 003 Movies, Media and Ethics
An examination of the ethical problems of professionals in journalism, public relations, advertising and others working in mass communications through viewing, discussing and writing about movies that raise ethical issues. The movies the class will watch include contemporary ones as well as older ones. The movies will be supplemented with readings and presentations on media history.

JOUR 407 Sec. 001 Investigative and Computer-assisted Reporting
Editors from around the globe have said data journalism is a key piece of the future of media. The world is awash in data, drowning us in a river of numbers and there aren't enough people to make sense of it. Enter the data journalist. Come learn how to get data, analyze it, visualize it and write stories from it this spring in JOUR 491 Computer-Assisted Reporting.

JOUR 491/891 Sec. 052 Developing New Media
Tired of hearing people talk about the future of media? Come build the future of media. In developing new media, we live by one simple rule: shut up and code. Learn about online product development, the latest in user interfaces and business models and live on the bleeding edge of the web. You'll go from zero to a working prototype of an idea you come up with, programming it yourself. Think you can't do it? You can. The future belongs to those who do.

JOUR 491 Sec. 952 Special Topics: Basic Audio Production and Performance
Audio and vocal performance are a part of nearly every project or assignment you will produce in our college and on the job. Whether you plan a career in print, broadcast or online journalism, advertising or public relations, this eight-week course - open to all majors in the college - will provide the basics of audio production and of using your voice. We will work on the fundamentals of audio recording and production, but we will focus primarily on using your voice in a variety of media-related settings relevant to any major in our college.

JOUR 491/891 Sec. 009 Contemporary Book Publishing (E-Publishing)
This class offers an overview of the book publishing industry and the challenges facing it today. Because of the broad nature of this course, we will focus on the important functional areas of book publishing, and talk about the opportunities and challenges of publishing in an electronic world (including e-books, self-publishing, and enhanced digital publishing) without neglecting the basics of traditional book publishing. Students will write a book proposal and follow their 'book' through the publishing and marketing process. At the same time, students will apply what they learn to the research, development and marketing of an actual book on the history and future of the Haymarket Arena.

JOUR 491/891 Sec. 010 Video for the Web
How does shooting news for the web differ from shooting for broadcast? This is just one question we will explore with hands-on projects designed to help you understand video story making for the web. The medium is different and there are different techniques for shooting, editing and presenting. You will learn how to shoot news stories that can stand-alone or that supports a text-based story and integrates into a web presentation. Prerequisites: Junior standing; NEWS 202; JOUR 163 or equivalent.