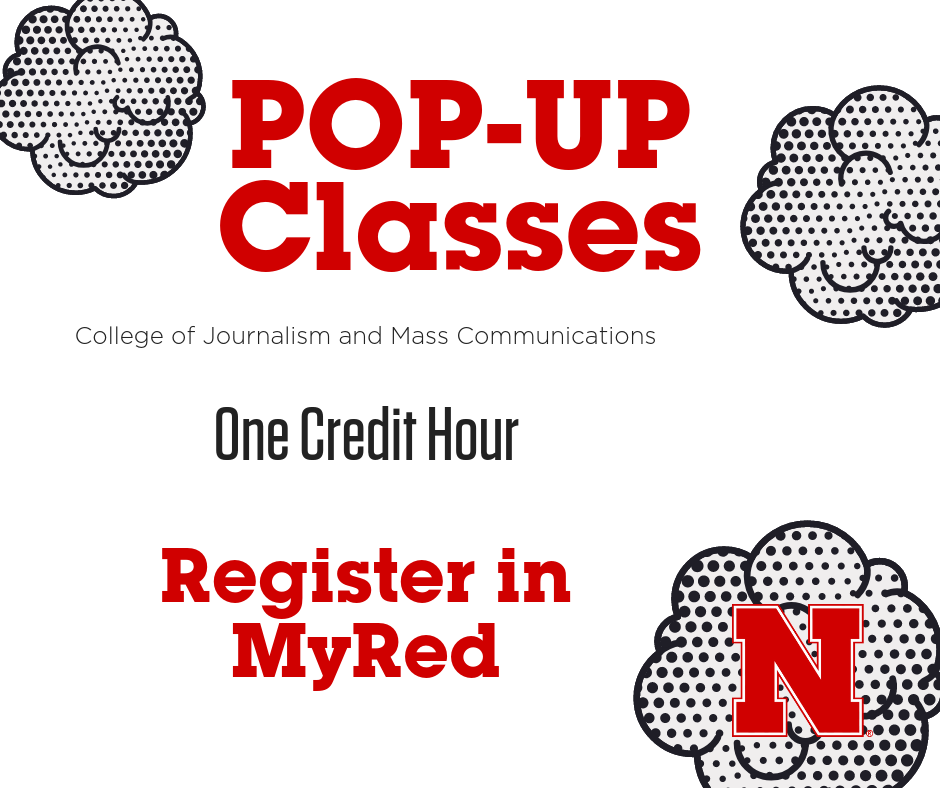 The University of Nebraska–Lincoln College of Journalism and Mass Communications is offering another set of pop-up classes during the 2019 spring semester.

Pop-up classes are courses that provide 15 hours of instruction and one academic credit hour to students enrolled at University of Nebraska–Lincoln. Pop-up courses were the brain child of Professor of Practice Matt Waite. "We strongly believe in the foundational principles of our industries, but we needed flexibility to adapt to constantly changing technologies and ideas," said Waite. "Offering pop-up classes, which can be designed and opened rapidly, while maintaining a strong foundational curriculum, seemed like an excellent way to achieve this goal."
The courses will cover a variety of topics and are designed with flexibility in mind. The college is offering seven pop-up courses during the spring semester.

• "Journalism goes to Hollywood" is being taught by Professor and First Amendment expert John Bender. The class will use classic and current films as a vehicle to spread knowledge and understanding of contemporary issues of journalism and free speech to students across the University of Nebraska-Lincoln.

• "Audio Podcasting 101" will be an introduction and exploration of audio podcasting. Topics include content/idea creation, hardware and software, writing techniques, vocal performances, hosting platforms, promotion of a podcast and how to make money from one.

• "Become an After Effects Ninja" will be taught by Colby Dolan, digital graphics artist at Lincoln advertising agency Swanson Russell. The pop-up will start students on the path to being an After Effects ninja. Students will learn the essentials of After Effects including how to keyframe, layer and animate.

• "Media Sales & Account Management" will be taught by David Thiemann. Thiemann is director of sales and marketing at The Daily Nebraskan. The pop-up will explore the world of media sales and account management. The fast-paced session will explore everything from the skill set needed to succeed in the world of media sales and account management to developing and closing a multimedia plan for a local business.

• "Storytelling with Sensors" will show how storytellers can harness small electronics to sense things in the environment. Sensors can add information such as which section of Memorial Stadium is loudest or which neighborhood has the loudest fireworks. Join the pop-up to find out how it's possible with a little wiring and a bit of code.

• "Covering Nebraska Courts" will clear fact from fiction in criminal justice shows. The pop-up will show how real criminal cases are handled in the Nebraska court system from arrest through the appellate process.

• "Creative Problem Solving by Archrival" will be taught by Clint Runge, founder and managing director of Archrival. The pop-up will show how critical problem solving can take a challenge and turn it into an opportunity through strategy, critical thinking and creative passion. The class will work on a real project at Archrival's office over a weekend.

• "360 Video Storytelling" will focus on storytelling with 360 video. Storytelling with traditional video is simple: Point the camera at a scene that tells part of your story. If you want your viewers to focus their attention on another activity or area, you re-frame the camera and viewers are looking where you want. How do you do this with 360 video, a format where the viewer can look anywhere at any time? How do you redirect the viewer's attention to the appropriate location at the right time? These are the types of questions the pop-up will explore.

The CoJMC website has more information about the pop-ups. The classes can be enrolled in through MyRED.