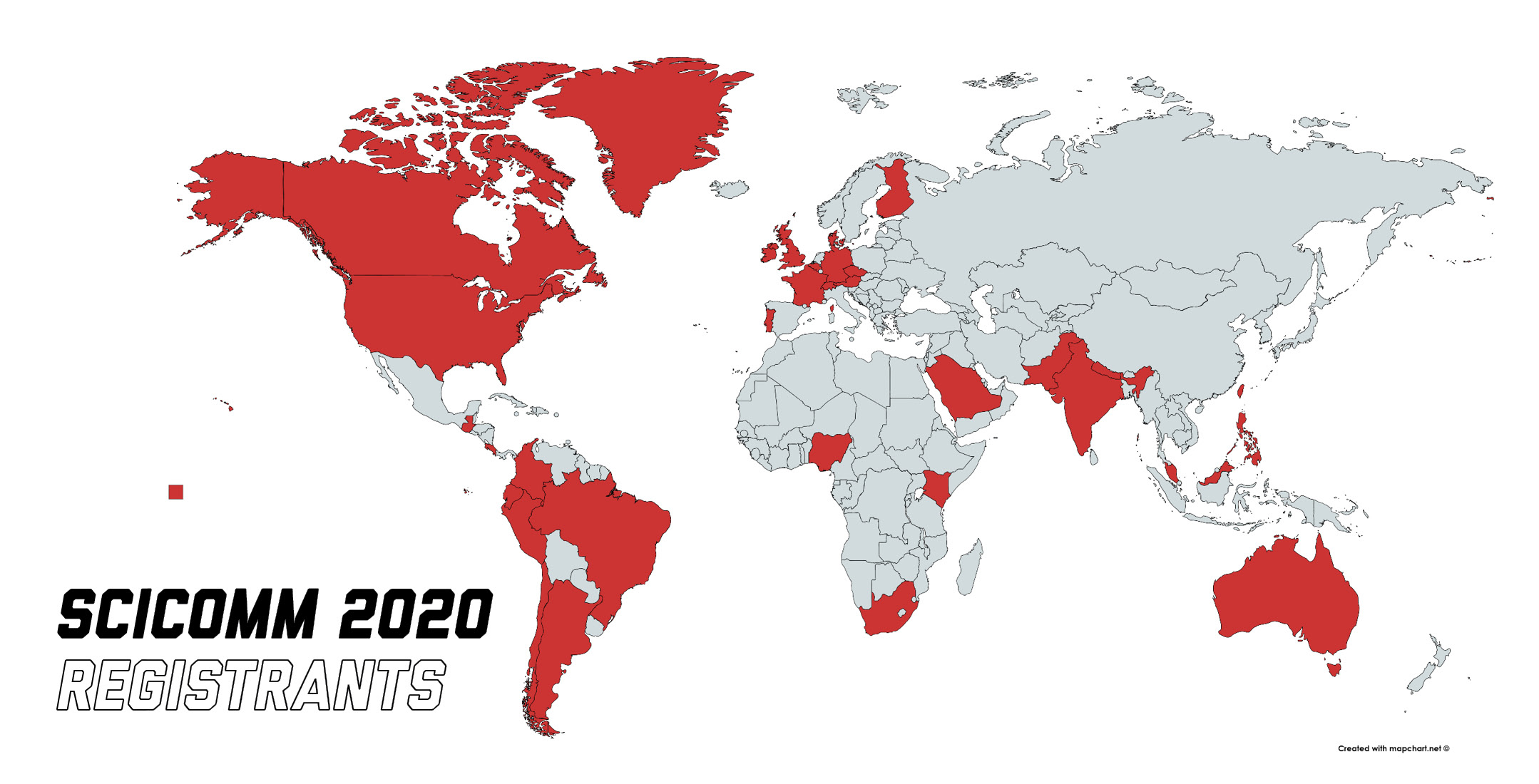 More than 650 people from around the world registered for SciComm 2020, a three-day online conference on effective science communication hosted by the University of Nebraska-Lincoln in August. The 658 participants hailed from 34 countries and 44 states in the U.S.

Four keynotes, six featured speakers, 23 oral presenters and six presenters of recorded talks, including a seventh featured speaker, gave presentations over two days.

The annual SciComm conference brings together scientists, educators, professional communicators, artists and more to share strategies and insights for effective science communication, forge connections and receive critical feedback. The conference alternates between Nebraska and Kansas State University as its host.

Keynote speakers for 2020 were Raven Baxter, better known as Raven the Science Maven; Uche Blackstock, founder of Advancing Health Equity; Andrew Revkin of the Initiative on Communication and Sustainability, and Christopher Volpe of ScienceCounts.

The four keynotes each delivered timely discussions over a wide range of science communication issues, from confronting biases to examining science as a brand. Baxter's message centered on being your unapologetic self and finding your voice: Your "scicomm" should reflect your personality, passions, and lifestyle. Blackstock, a medical doctor, presented sobering statistics on health disparities as well as a framework for understanding and addressing racism and advice for moving forward. Revkin emphasized how to nurture your network, understand your audience and play with data. Volpe showed how Science Counts used poll data to discover what Americans thought about science as a brand and discovered that science's brand means hope.

The webinar recordings of the keynotes and four of the featured speakers – Jocelyn Bosley, Deirdre Cooper Owens, Christine Cutucache and Taylor Ruth – will be posted on the website and on the SciComm YouTube channel, joining the recorded presentations of Laurel Allen and Melinda Smith.

Some topics covered by other presenters at #NoCoastSciComm included the necessary symbiosis of government and science, laughter as medicine, analytical trends in COVID-19 editorial cartoons and STEMed startup Galactic Polymath by SciComm founder Matt Wilkins.

The SciComm organizing committee was chaired by Eileen Hebets, professor of biological sciences at Nebraska, and sponsored by the Center for Science, Mathematics, and Computer Education, which ran the conference on Zoom; Nebraska's Established Program to Stimulate Competitive Research; the colleges of Arts and Sciences, Agriculture and Natural Resources, Education and Human Sciences, and Engineering; the Agricultural Research Division; Agricultural Leadership, Education and Communication; Nebraska Biotechnology Center; the departments of Entomology, Agronomy and Horticulture, Communication Studies, and Natural Resources; the Office of Research and Economic Development; the schools of Biological Sciences and Natural Resources; Nebraska 4-H; the Johnny Carson Center for Emerging Media Arts; and the University of Nebraska State Museum; all at Nebraska, with additional support from a National Institute of General Medical Sciences Science Education Partnership Award.

Follow the #NoCoastSciComm Twitter and Instagram accounts for 2021 conference plans.