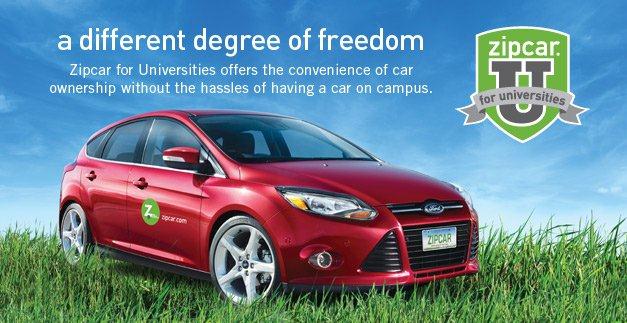 Students at UNL can now have wheels with no strings attached. Zipcar, the world's leading car-sharing service, is now on campus. With Zipcar, members can reserve self-service, on-demand cars by the hour or day, 24/7. Any 18+ UNL student can become a member today for only $25.

Enter promo code LAUNCH2012 on your application and you'll get $40 in free driving so you can give it a try on us.

Wondering how it works? There are four simple steps to Zipcar freedom. Join today at zipcar.com/unl. Once you're a member, reserve a car online or on your phone for as short as an hour or as long as 4 days. Let yourself into the car with your unique Zipcard. (The keys are already in the car.) Drive away. (Just make sure to return the car at the end of your reservation.)

With Zipcar parked right on UNL, it's easy to get off campus and get downtown, do errands, or even road trip. And since Zipcar covers gas, insurance, and 180 miles per day, you can enjoy the freedom of the open road without any of the extra costs.

Interested? Join today at zipcar.com/unl or follow us on facebook. Have more questions? The Zipcar team will be at the Union Plaza from 9 a.m. to 2 p.m. on Aug. 22 and 23. Swing by to learn more about the program.

For more information on i.d. and/or documents needed for international students please refer to http://www.zipcar.com/apply/foreign-drivers .