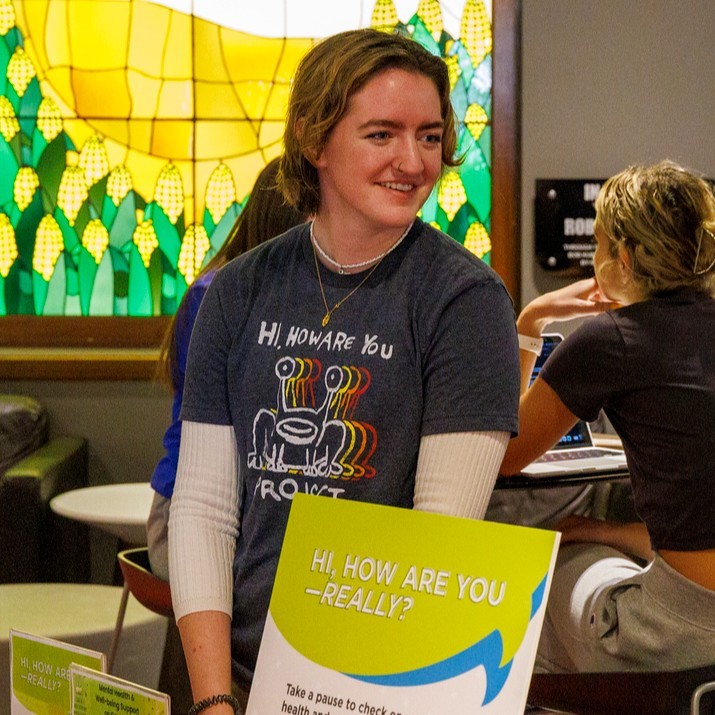 Don't check out yet - there's a few weeks to go as November ends and we ease into December. We sifted through the campus calendars and activities to curate an excellent list of events.

Here are FIVE great happenings to consider.

____________________

Blood Drive
10 a.m. to 4 p.m. November 29 & 30
Harper Dining Center, Conference Room

Due to an increase in natural disasters, blood donations are in great demand. All blood types are needed. Students at UNL can schedule their donation time online. Individuals who donated during the Homecoming Blood Drive should be eligible to donate again.

Students, staff, and faculty from UNL can schedule their donation time at http://redcrossblood.org. Type the zip code "68588" into the search function to locate this drive.

This event is hosted by the UNL Campus Red Cross Club.

____________________

Hi, How Are You
12 to 2 p.m. November 30
Howard L. Hawks Hall, North Lobby

Trust your gut instinct when you feel something is up with a classmate, friend, or loved one – it's the time to ask them how they're doing.

In a few minutes at this free drop-in event, UNL's Well-being Ambassadors can teach you how to support your peers. They will quiz your current knowledge on available mental health resources as well as decrease the stigma around help-seeking.

Participants will walk away with informational resources and fun stickers, plus be entered for a chance to win a Big Red Resilience and Well-being swag bag.

When you stop by, remember to snap a photo with the friendly frog!

____________________

Study Abroad Story Slam
4 to 6 p.m. November 30
Nebraska Union, The Crib

Enjoy an evening of storytelling with snacks, drinks, artwork, and photography from Huskers who studied abroad.

All students should drop by to hear entertaining 3- to 5-minute stories shared by fellow Huskers about their global experiences.

If you want to share your story at the event, here are helpful storytelling tips and tricks from The Moth: https://themoth.org/share-your-story/storytelling-tips-tricks. Keep in mind the Student Code of Conduct when telling your story.

This event is hosted by the Global Experiences Office.

____________________

Welcome All Wonders
2 performances: 3 p.m. and 7:30 p.m. December 4
UNL Newman Center (16th and Q Streets)

Five choirs from the Glenn Korff School of Music will combine for their annual massed, surround-sound event for a holiday concert.

The University of Nebraska's flagship choral ensemble, University Singers, plus the Chamber Singers, the Varsity Chorus (Men), the University Chorale (women), the All- Collegiate Chorus, brass, percussion, and pipe organ will perform familiar carols and also carols from all remote places of the globe. The family-friendly event will also include numerous audience sing-alongs with traditional holiday carols.

This event is free and open to the public.

____________________

Spanish Speaking Luncheon
12 to 1 p.m. December 5
Howard L. Hawks Hall, Room 102

Enjoy authentic Hispanic cuisine while engaging in the conversation using your Spanish-speaking skills. This is a great opportunity to practice these abilities and network with other beginner and advanced speakers. All members of the UNL community are welcome.

Due to limited capacity, RSVPs are required no later than 5 days before the event. Secure your spot via email to emontoya4@unl.edu. Please indicate any dietary restrictions/food allergens in your email.