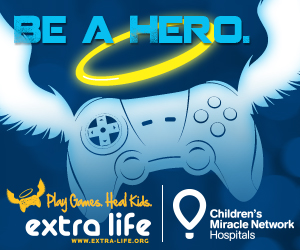 Resources:
Facebook Event: https://www.facebook.com/events/170342023100244/
ExtraLife: http://www.extra-life.org/team/unl

Want to get participate in Extra-Life? Wanna LAN for charity? Wanna know what the heck I'm talking about? Read on!

Extra-Life is a 24 hour gaming marathon on Oct. 20th. Participants get people to sponsor their gaming, and the money goes to the Children's Miracle Network, an awesome charity for Children's Hospitals.

As a registration drive for Extra-Life, we are hosting a LAN party full of fun and prizes! To be eligible for the contests, you must have a registered donation page with ExtraLife.

Step 1: Register your Extra-Life donation page here:
http://www.extra-life.org/team/unl

Step 2: Send your name, email, and a link to your Extra-Life donation page to unlextralife@gmail.com.

Step 3:
Get some sponsors! We're putting together some prize packages to raffle off. Every sponsor you have earns you raffle tickets for a chance to win!

Games include:
-Starcraft II
-Team Fortress 2
-Minecraft
-SuperSmash Bros.
-Dota 2

We'll break out some board games as well!

If you have any questions, email unlextralife@gmail.com or post them here. Hope to see you on the 5th!